Progam Solutions For Real-Time Applications
By adding the ability to accurately and quickly collect information from business activities, bar code systems can have a real effect on your bottom line. WincoID works with leading-edge technology to incorporate the latest in mobile communication, wireless, and radio frequency technology. Along with state-of-the-art equipment, WincoID's solutions group brings programming expertise for standard and custom applications to support the "total solution".
Typical applications include the following:

Inventory
Asset Management
Time and Attendance
Shop Floor Tracking
Tool Crib Management
Warranty Tracking
Shipping/Compliance
Warehouse Management
Inventory: Monitor stock levels, record transactions and tie that data back into your purchasing, shipping, accounting and planning systems. Implement "just-in-time" (JIT) manufacturing using up-to-the-minute inventory data on raw materials, components, and finished goods. You can even track POs, invoices, and serial numbers. Eliminate bad counts and other human errors.
Asset Management: Inventory your fixed assets and monitor their use. Eliminate manual data entry. Track assets by location or personnel. Depreciate assets and plan for new acquisitions. Track routing, job/manufacturing scheduling and production. Verify machine data.
Time and Attendance: Completely automate employee monitoring. Plan staffing and shifts. Connect to payroll system and human resources.
Shop Floor Tracking: Track Work in Process (WIP), manage parts, orders, workflow, employees, assembly, and shipment.
Tool Crib Management: Track tools by location, serial number, and responsible employee.
Warranty Tracking: Monitor and control repair and support with complete warranty information. Track by issue date, expiration date, level of service, service contracts, customer, part number, and serial number. Use information for customer service as well as quality control and vendor review.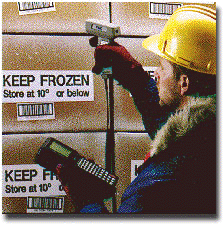 Shipping/Compliance: Track by customer, product, destination, lot carrier, and more. Make the shipping decisions designed to meet customer expectations and save you money. Track shipments in transit, eliminate lost shipments, and missed shipments. Make sure orders match shipments, and comply with major industry and retail specifications.

Warehouse Management: Warehouse and logistic operations will prosper or fail based on the ability to manage volumes of information rapidly, efficiently, and flexibly. Move goods to the end-user faster, more frequently, with fewer errors, for less money. Remotely record receipts against POs and print labels for incoming goods. Use system intelligence for "put away" advice. Pick by order, due date, log weight, and more. Double check all shipments, produce comprehensive reports. Use a warehouse profile to maximize material handling efficiency. Perform cycle counting, productivity tracking,and generate custom reports.