Zebra Printers | Datamax Printers | Sato Printers
Automatic Print & Apply Systems | Repair Services
Print Labels Quickly, Reliably, and Accurately

What kind of label printer will be right for your applications? Desktop, table top, portable, fork lift, laser, thermal transfer, impact? Which printers are best suited for your workload? Label type? Bar code/industry specification? For some applications you need a small, light-weight unit that is portable - so you can use it wherever and whenever it is needed.
Typical examples of applications where this kind of printer is useful are retail, laboratory, health care, and any application involving a scale. Other applications require a tough printer that can stand up to industrial conditions. With a durable steel housing, this kind of printer is well-suited for manufacturing environments that include electronic component labeling applications.
Similar printers for retail packaging might include the capability of printing 100% size EAN codes. For warehousing and shipping environments, you might install a very fast printer with consistently high quality first out label performance. This kind of printer is ideal for efficient on-demand printing and graphics printing.

For shipping and compliance labeling applications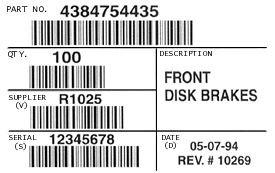 you would want a printer with a wide print head, an LED display and the ability to store downloaded application programs. A similar type would be ideal for large labels typically required for drums and chemical product labeling. In general, laser printers are not particularly well-suited for most label printing situations due to slower speeds. However, laser printers are ideal for product labeling where enhanced graphics printing capabilities add to the appeal of the product. As a full bar code solution provider, Winco works with you to isolate the key print capabilities your applications demand and select the appropriate printer to meet your requirements.
Service Plans
Product Catalog
Automatic Print & Apply Systems