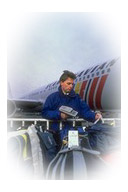 Where You Need To Be - In Total Control Of Information
In today's competitive business environment, one of the most valuable resources you have is information. That's why it's no surprise that wireless computing technology is being enthusiastically adopted by so many bottom line oriented companies and organizations.
Why is a Wireless RF bar code data capture system so valuable to companies like yours?
Users "go where the data is"- to the manufacturing floor, the warehouse, wherever. Data is collected and processed in real time empowering your business to distribute information across the enterprise. This enables companies to slash manufacturing, distribution, and warehouse management costs, increase productivity, customer service, and dramatically boost profits.
Benefits of Moving operations to a wireless communication system
Mobility
Point-of-activity computing
Real Time Data Communication
Enterprise-wide Information
Enhance Supply Chain Management, all the way down the chain.
A Quick Introduction To The Latest Wireless technology
Spectrum 24 from Symbol was designed to respond to today's mission - critical data management and communications needs. Spectrum24Ò is a high - performance wireless network that is designed to comply with the important IEEE standard.
At one time, wireless RF Networks were largely proprietary. Today, however, users are moving rapidly to embrace open standards for all types of applications. Symbol's commitment to the new standard means you can maximize, integrate, and expand your investment in RF technology.
Wireless Systems That Grow With Your Company
It's important to note that the RF Networks provide unmatched scalability. This means that the systems can be configured in a variety of ways to meet the needs of specific applications.
This new level of mobility will require businesses to re-think the way your deliver applications and information. Configurations are easily changed and range from independent networks, suitable for a small number of users, to full infrastructure networks comprised of hundreds or thousands of users who can roam over a wide area.
Choose from a selection of ergonomically designed key-based and pen-based hand-held computers that are optimized to communicate over the Spectrum24 network. From PC-based to thin-client architectures, Symbol's line of mobile computers gives you the rugged reliability and dependable performance. They are designed for maximum battery life, easy connectivity, and a wide range of configuration options to meet your exact application requirements.
Implementing a Wireless Solution - Don't Go It Alone
Winco Identification specializes in helping companies like yours implement a wireless RF Network. All of our representatives undergo rigorous training and have knowledge and expertise necessary to deal with all aspects of RF Network technology- from site survey to configuration and installation. They offer:
Project Services
Integration services
Installation services
Software services
And more...
These can all be combined as needed to support and ensure a successful implementation of your wireless system's life cycle.
If you want to raise profits, cut costs, and stay ahead of the competition or if you're looking for a way to improve your bottom line and meet the tough competitive challenges you face, take a close look at what RF bar code data capture can do for your organization. You'll discover that it can put information where you really need it… at your fingertips.
Isn't it time you join the wireless computing revolution? Call WincoID today for more information.

Trademarks and Registered Trademarks are property of their respective owners.