GM 1724 Shipping/Parts

General Motors has always been a leader in exploiting new technology to improve its bottom line, so it should come as no surprise that GM recently announced its incorporation of 2D bar coding technology into a new global supplier label standard.
In late 1999, General Motors announced their introduction of a new global supplier label standard in order to bring greater commonality and efficiency to the receiving process. The first step in providing that greater efficiency is a common label format that will be used by all 25,000 GM Suppliers worldwide when shipping products to General Motors. Previously, General Motors had begun the implementation of a North American standard with the AIAG B-10 in mind. This process is still ongoing and has brought significant benefits to GM. However, additional benefits remained to be realized and, in order to receive the maximum benefit, it was clear that a worldwide standard would need to be implemented, especially given the increasingly global nature of the automobile business.
Called the "Uniform Global Part-Labeling Template," the basic idea behind this new standard is "to make the label easy to read." This includes such things as standard data locations,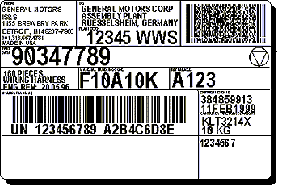 standard fonts, upper case lettering, and more human readable data. Since the original AIAG B-10 label used as many as five or more Code 39 linear bar codes, space for human readable data had been limited previously. Replacing most of these bar codes with a single PDF417 two-dimensional (2D) bar code cleared a tremendous amount of space in the new design - space that can be used for better human readable information. This use of PDF417 - the most widely implemented 2D bar code - also complies with AIAG guidelines on the use of two-dimensional bar codes. Now one fast and simple scan is all that is required to enter all of the data that used to require multiple scans. Additionally, because PDF417 uses strong error correction techniques, the bar code can be read even if it is somewhat damaged, increasing the reliability of the entire process. This is the classic - "Better Bar Code" story - reducing the number of symbols on a label, document, or product in order to save space and reduce scanning effort.
Overall, the use of a single global label is expected to significantly streamline the receiving process at GM, and could yield potential savings of as much as one hundred million dollars per year.
Other Benefits
Major organizations such as the U.S. Department of Defense have already demonstrated the value of PDF417 in real-world logistics applications. In the automobile industry specifically, Subaru-Isuzu of America (SIA) has shown how 2D bar coding can be used in conjunction with EDI to speed receiving reliability and accuracy. At Subaru, like most modern manufacturers, all of their inbound supplier shipments are in theory preceded by EDI transmissions detailing the contents of the shipment. In some cases, however, these EDI transmissions can be delayed, sometimes even arriving after the shipment. This is most common when suppliers are located very close to their customers, a trend that is increasingly common. Alternately, sometimes the EDI transmission arrives, but is not completely accurate. The reason for this is the EDI transaction was prepared ahead of time, but at the time the goods were loaded, the exact goods could not be shipped. Both of these scenarios happen a minority of the time, but when they do happen, they can be expensive - goods must be held up until the problems are resolved or expensive manual exception processing performed.
Subaru addressed this problem by requiring its suppliers to add a PDF417 label to each shipment, with a key subset of the information from the EDI transaction. In this way, goods received can be quickly and easily reconciled against the EDI record. Moreover, even if the EDI is inaccurate or delayed, there is enough information available to allow the goods to be received and used, with any discrepancies reconciled later. A great deal of labor intensive manual intervention is avoided using this approach. The system has proved a tremendous success for Subaru, reducing their receiving time per container down to less than a minute from a worst case of 45 minutes before the system's implementation. With the addition of key information in a 2D bar code to the GM label, similar applications may now be possible. Moreover, others in the supply chain will also be able to use the information. Suppliers can check the accuracy of a previously prepared ASN (Advance Ship Notice) by scanning a single 2D bar code as their shipments to GM are loaded. In addition, suppliers can build an ASN at the time of loading - should time permit.
Global Scope
During the development of this GM standard, GM realized that in the long term everyone would benefit if this were a cross company standard as well as an international one. For this reason, GM has been working with both ODETTE (the European automotive standards group), as well as its American equivalent the AIAG to craft a standard that is both cross-company as well as global. This is the first step in a long process, but certainly points the way to expanded use of PDF417 in this application in the future.
Over the next few months GM will be working closely with its suppliers to make the transition to this new label. The deadline for adoption is presently March 2000. Software developers, printer manufacturers, and AIDC solution providers have already begun to contact Symbol and our partners to ask for assistance in implementing this standard. These providers will all require scanners and terminals with PDF417 in the future, since the only 1D bar code that remains on the label is the EDI "license plate". If a receiver wishes to scan other information, such as serial number or part number, directly off the label, the PDF417 symbol will need to be scanned.
Needs and Opportunities
In some cases, upgraded printers may be required in order to print the new label, depending on individual circumstances. The Zebra Performance Line printers, known for their reliability and superior performance in mission-critical applications, are designed with applications like this in mind. In addition, these printers are available "Radio Ready," for wireless printing environments. Moreover, at many suppliers there exists a need for a 2D scanner to read the labels. At a minimum the scanner will verify the readability of labels that they will be sending to GM. Some suppliers may choose to implement applications that read the information on the label for their own applications, such as detailed tracking of shipments "as loaded". This scanning system could range in complexity from a hand-held scanner attached to a PC, to a portable data terminal with integrated scanner, or a network of Spectrum24®-enabled scanning terminals connected to a host. From our partner Zebra, you have access to world class bar code label design software that integrates directly into your ERP, WMS or legacy application software without the need for any custom programming.

Opportunities and needs will obviously exist within GM itself also. While requirements will vary from location to location, some will certainly want to scan the PDF417 symbol and read and use the information stored there. To do this, they will need 2D capable reading equipment and portable data terminals. Beyond these near terms needs and opportunities, we should not overlook the big picture. Others will likely follow GM in implementing PDF417 as a key part of their supply chain infrastructure. We should all be looking for similar opportunities in our own areas of expertise. The GM suppliers implementing this directive will all have suppliers of their own. Perhaps they might feel it would benefit them to adopt a similar approach with their individual supplier communities.
How Can Winco Identification Help?
Winco is positioned to provide the total system solutions necessary to implement this standard quickly to comply with this mandate by March 2000. Many GM suppliers may need to upgrade existing software in order to print the label and PDF417 bar code properly. This will require knowledge of PDF417, but more importantly it requires knowledge of the software that will support this new format.
Winco Identification is ready to assist wherever needed. Winco is working closely with our partners Symbol and Zebra to develop solutions and education programs that will make implementation of this mandate as easy as possible. Winco offers a "GM Supplier Solution Pack" consisting of a scanner, printer, and software. This package is designed to get a GM supplier up, running, and compliant as quickly as possible. In addition, we continue to offer a wide range of individual PDF-enabled scanning and terminal products well-suited to this application. These include the LS 4800 hand-held laser scanner, the VS 4000 hand-held imager, and the PDT 7500 rugged portable data terminal all with integrated 2D capability. Winco is committed to assisting in the rapid implementation of this exciting initiative.
If you have any questions, contact:

Nate Fernald
Account Executive
(800) 325-5260 X255

In partnership with: