More About The Paragon System
Modular design
The PARAGON system features a unique modular design that couples your choice of high-quality print engine modules to one of several label applicator modules through a rugged chassis. Modularity results in better quality control, simplified ordering with shorter lead time, simplified maintenance and assured compatibility with future technologies. The PARAGON print-and-apply system is easy to set up, simple to operate and extremely reliable.



Easy integration
The PARAGON system's compact modular design fits into any operation without taking up a lot of valuable space. It is compatible with ThinNet and 10 Base-T networks and is easily integrated into any automated packaging line. Or, it can be set up as a transportable standalone labeling operation. Most popular labeling software, including Label View®, can be used for label set-up, design and downloaded to the PARAGON system.
Download the Demo Software Now
Engineering excellence
The PARAGON system is engineered for durable, extended operation in a manufacturing environment. Only premium quality materials are specified and the workmanship is precise. Every system is built to exacting standards and subjected to Winco's tough quality and performance standards to ensure exceptional long-term reliability. PARAGON is registered with leading agencies such as ETL (UL Standards), CE and CSA as further quality and safety assurance.
Versatile and flexible
A PARAGON system can label most anything - from small, delicate packaging to shipping cases and pallets. It can print-and-apply most any size label and can easily perform sequential numbering, time/date imprinting, lot numbering, expiration dating, and more. The system permits stacking of many different jobs for continuous operation, yet allows special jobs to be inserted into the run. For precise compliance labeling, the PARAGON system's versatility, label placement accuracy, and crisp thermal/thermal transfer printing quality means penalty-free performance. Changeover to different label information and sizes is fast and easy. The system even rotates 360 degrees for operation in any position. And the operators learning curve is minimal.
Print engines
The PARAGON system gives you a choice of three print engines to ensure a perfect match with your own production environment. Proven print engines from SATO, ZEBRA and DATAMAX provide the high-quality 203 DPI or 300 DPI thermal printing that's so important for positive bar code scanability and attractive appearance. All three print engines feature a user-friendly touch-pad operator interface and are designed to mount to the PARAGON system chassis with plug-and-play simplicity.
Specialty Modules
| | |
| --- | --- |
| | |
| NEW ExpressTM Apply-Only Module | NEW Linerless Print-and-Apply Module |
Paragon ExpressTM Apply-Only Module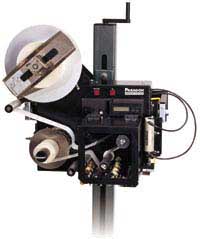 Apply preprinted labels in high speed packaging operations today; with the option of upgrading to print-and-apply labeling tomorrow!
Now you can add the speed and flexibility of an apply-only labeling system to your packaging operation. The new Paragon ExpressTM labeling module applies most sizes of preprinted labels to all types of packages, pallets, cases or cartons with little regard to their size, shape or degree of fragileness. It labels faster than print-and-apply or by-hand applications. Best of all, it can be upgraded to print-and-apply at any time. For high-volume labeling jobs, the Paragon ExpressTM sets the new standard for labeling - with greater speed and placement accuracy.