Lavelle Machine
485 Groton Road
Westford, MA 01886
Tel: 888-888-8888
Fax: 888.888.8889


please also see our articles page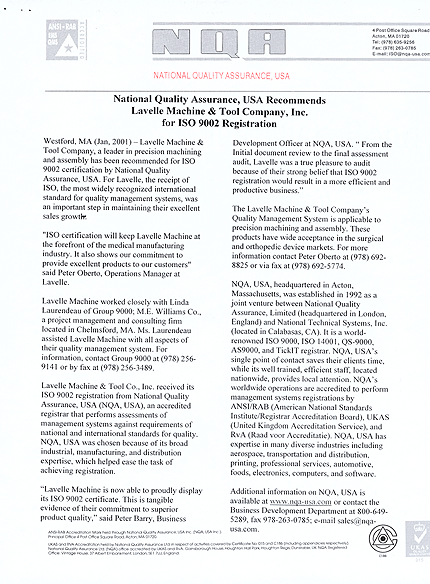 On March 16, 1999, Smith & Nephew Endoscopy, Inc., based in Andover, Mass. presented Lavelle Machine of Westford, Mass. with their most prestigious acknowledgment for outstanding Quality, Delivery, Teamwork and Service - "Supplier of the Year 1998".
Smith & Nephew, Inc. Endoscopy Division is a world leader in the arthroscopic market. They serve three primary markets: arthroscopy, visualization, and minimally-invasive surgery. Marketed worldwide, the advantages of endoscopic procedures over traditional surgery are immense. Shorter operating times, a decreased need for anesthetic, and less trauma and bleeding all add to patient comfort, as well as operating room efficiency. Smith & Nephew employs over 12,000 people with operations in 36 countries.
Lavelle Machine has been operating for over 38 years and specializes in integrating their engineering talents with precision manufacturing capabilities to provide customers with the best overall value in producing surgical instrumentation. They seek to become involved at design inception, providing machining expertise that insures optimum design and produceability. Ed Lavelle, Jr., Vice President, said "It was wonderful to be recognized for the effort we extend to them on a daily basis. It takes a tremendous amount of energy at all levels to accomplish all of their requirements. Our goal is to provide all of our customers with this type of team focus." Lavelle Machine employs over 40 people and is located in a state-of-art manufacturing facility.