Lavelle Machine
485 Groton Road
Westford, MA 01886
Tel: 888-888-8888
Fax: 888.888.8889

Lavelle's complete, fully featured EDM operation houses an array of the most recent technology in both submersible wire and die sinker EDM.

Our people and our equipment are at the forefront of the EDM field, working on projects requiring tight tolerances and surface finishes.
Like our milling and turning departments, Lavelle's EDM specialists are always pleased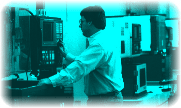 to work closely with our customers' project engineers at achieving practical, efficient proof of design -- all the way through production.