RPS1064 FT-Raman Probe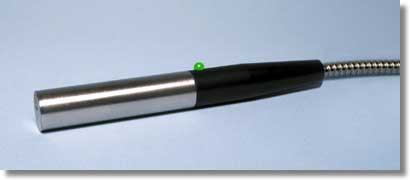 Customers using FT-Raman spectroscopy at 1064 nm excitation can now benefit from flexible sampling possibilities with a fiber optic probe. The RPS1064 is comparable to our RamanProbeTM for dispersive Raman instruments. The two-fiber probe incorporates micro-lenses and filters to remove silica background from the spectrum. The standard configuration has an attentuation of 105 at the laser wavelength; for spectrometers that do not incorporate a primary Rayleigh filter, an attentuation of 108 is available as an option.
The RPS1064 can be used to measure samples through glass bottles and reaction vessels, or to measure neat samples.
SAFETY WARNING: When coupled to an FT-Raman spectrometer including 1064 nm laser, the RPS1064 enables invisible laser radiation to be emitted outside of the standard sample compartment, potentially bypassing laser safety interlocks installed by the spectrometer manufacturer. Operation protocols should be designed to avoid laser exposure to the skin and eyes. A written safety plan must be provided to InPhotonics prior to delivery of this product. InPhotonics assumes no liability for direct or consequential damages caused by the use of their products.

Internetworking and Related, Health Care and Insurance, Software and TeleCom
Many of the online directories focus towards one market segment or audience profile. Here, we target the "best in class" for each of the served markets by industry leaders in their respective fields. Find a category that you feel is most relevant to the content of your site, or that attracts a customer demographic you wish to reach. Provide a title and URL and submit to this directory.
Corporate Business
Business web directory and online Internet marketing center, offering powerful promotion opportunities to your business and website. Maximize traffic to your website by submitting to the directory. Categorized in 7 main groups, including Consulting, Manufacturing, Internet Services, Professionals, Health, Pharmaceutical, Software & Telecommunications and Transportation.
Business Consulting
enter
Internetworking & Related
Health Care & Insurance
Software & Telecommunications
Internetworking & Related
Health Care & Insurance
Software & Telecommunications
business directory | corporate, financial & education directory | real estate & search engine directory | manufacturing directory | software, non-profit & retailers directory
company directory
Downloads (requires Adobe® Acrobat Reader)
RPS1064 Specification Sheet

Features and Specifications
Sampling Head
Stainless-steel, cylindrical probe head, 0.5" in diameter (12.7 mm) x 4" length (76 mm), with integrated fiber optics
Spectral Range
250 - 3500 cm-1 (Stokes)*
Excitation Wavelengths
1064 nm (see the RamanProbe page for additional wavelengths in the visible and NIR regions)
Working Distance
5 mm (std.), up to 10 mm (opt.)
Fiber Configuration

Permanently-aligned combination of two single fibers (100 µm excitation fiber, 500 µm collection fiber standard) with filtering and steering micro-optics, N.A. 0.22, in stainless-steel jacket.

Options: Other fiiber sizes ranging from 50 µm to 500 µm. "Side-viewing" model with optical output perpendicular to cylindrical body.

Filter Efficiency

Patented design for filtering of the laser line and quartz spectral contributions from both input and output fibers (O.D. > 5 at laser wavelength)

Option: O.D. > 8 at laser wavelength (for systems that do not have a primary Rayleigh filter)

Physical Resistance

Extremely durable sampling head and fiber cable, resistant to physical shock, can be heated to 80ºC.

Option: High-temperature version resistant to 200ºC

Cable Length
5 m std. (Option: up to 200 m)
Safety Features
Emission indicator (std.), Class I sample holders available
Coupling System
Available with FC (std.) or SMA 905 connectors
Retail Price
$ 5,875.00 USD
*Ultimate spectral range will depend upon spectrograph and detector.
Prices and specifications subject to change without notice.
---
All information and images contained in this web site are Copyright © 1998-2022 InPhotonics, Inc. All rights reserved.