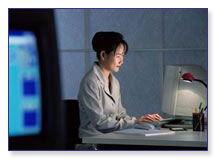 Technology is the heart of our business. To actively support research and development, we dedicate a major part of our manufacturing revenue to
this end.
Through the years, the high premium we have placed on innovative research and development has paid quality results and enabled us to respond quickly to changing market demands.
As a result of our capabilities and the transfer of technology, we have secured the best mix of hardware and software technology and made it work for us and our ODM/OEM customers.
We have acquired key expertise in Digital Signal Processor (DSP) technologies, computer telephony, infrared, radio frequency technologies and Application Specific Integrated Circuit (ASIC) design techniques.
Fully committed to providing our customers with the latest innovations, our Research and Development team will be able to utilize these technologies to developing new applications and state-of-art products for PCs, point-of-sales terminals and industrial automation systems.
Our market-driven research and product development projects are closely integrated into the operations of our core businesses. Computer-aided design manufacturing systems and computer simulation facilities play a leading role in all research projects.
The GES technology roadmap includes: Software, Biometric, Display, and Communications. Communication technologies include 802.77 a/b/g/h, RFID, Bluetooth, Wireless USB, Wireless 1394, WiFi and Powerline.