GES International is a provider of advanced electronics manufacturing services to original equipment manufacturers with worldwide, world-class operations in the United States, Singapore, China and Malaysia. GES has decades of experience in providing cost-effective, integrated solutions to our customers.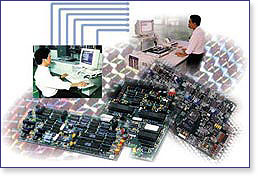 We offer customized electronic manufacturing services from conceptual product design through aftermarket support. GES International's main philosophies are: quality, service and flexibility at all times to our customers.
Team Partnership Approach
GES International is your ideal long-term partner for business excellence. Our goal is to provide customer-focused, cost-effective, quality-manufacturing services. Each customer becomes part of a dedicated Business Unit or Program Management team whose sole charter is to ensure GES exceeds customer expectations.
Long Term Value Added Service
This begins early in the product development process with cost-effective design, assembly, test, and component selection input and continues throughout the life of the product. On-going services include customized packaging and distribution, configurable products, depot repair, continuous cost reduction programs and sustaining engineering.
Worldwide, World Class Manufacturing Expertise
Design Expertise that Spans Across a Wide Spectrum
Creative, Cost-effective Solutions
Full Turn Key Box Build Capability
Rapid Prototype & Pilot Runs
Dedicated Business Units