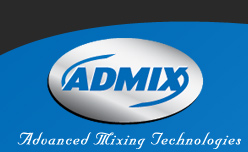 What's New - Press Releases
For Immediate Release
Contact: Sue Foskitt
suef@admix.com
603.627.2340
NEW MODEL! ADMIX EXPANDS THE FASTFEED POWDER INDUCTION & DISPERSION LINE

July 20, 2009 – Manchester, NH - Admix is pleased to introduce a new model in the Fastfeed line designed to double our inline powder delivery capabilities, now offering controlled feed rates from 3 to 400 pounds per minute!  The Fastfeed allows you to add powders and liquids to any size tank so there's no need to retrofit or replace existing mixing systems.  It's portable, equipped with casters, and can be moved to any tank in your plant.  With two models available, you can deliver powder in line at controlled feed rates from 3 to 400 pounds per minute!
To see the Fastfeed in action or to read more, click here.
---
CELEBRATING 20 YEARS

May 29, 2009 – Manchester, NH - Thank you for helping make our company a success! Admix was founded in 1989 in Londonderry, New Hampshire. Just 9 years later, we had already outgrown the space we were leasing. We opted to build our own facility a few miles away in Manchester and recently doubled the size of our building in 2007. It's been a great 20 years and we sincerely thank you for making it happen! We look forward to growing our relationship with you in the years to come.
---
Admix Launches FastRead Newsletter for Sanitary Processors!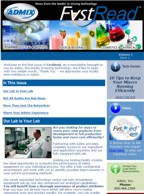 April 21 , 2009 – Manchester, NH—Admix is pleased to announce the recent launch of FastRead, an e-newsletter for sanitary processors. Topics in our first issue include:
and more! We invite you to join our mailing list using the convenient button located on the side bar.
---
Admix Announces A New Streamlined Website
January 8, 2009 – Manchester, NH—Admix, Inc., has launched a newly updated and streamlined interactive website: www.admix.com. The new site will allow customers, distributors and manufacturers easy access to a wealth of useful information pertaining to advanced mixing technologies.
According to Sue Foskitt, Marketing Manager for the company, "Our new site is polished and easy to navigate. Users will still be able to find the right mixer for them by searching Equipment, Ingredient or Application. As always, we're dedicated to all the latest standards and our engineers are committed to innovative solutions to the toughest mixing challenges. We want users to enjoy visiting our site and remain committed to providing helpful and informative content to help them run their processes more effectively."
About Admix: Located in Manchester, New Hampshire, Admix is a premier manufacturer of stainless steel and other innovative mixing technologies. Celebrating its 20th year in business this year, Admix specializes in the manufacture of sanitary high-speed dispersers, high shear emulsifiers, inline emulsifiers and wet mills, sanitary static mixers and blenders, low speed stainless batch mixers and vacuum conveying and powder delivery mix stations.