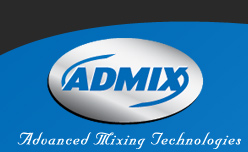 Admix LiquiShear™ - The "unconventional" liquids / solids processor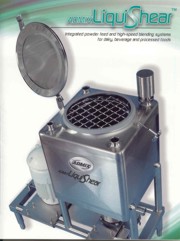 Admix, a leader in high and low shear sanitary mixing and powder induction since 1989, introduces a new concept for specifying, updating or replacing conventional liquid-processors.
The Admix LiquiShear will incorporate most dry solids or powders into liquids for blending, dispersing, de-agglomerating, reconstituting and reworking in 3 to 5 minutes.
The basic blending module is heavier duty, higher quality and more powerful than conventional liqui-processors...utilizing a low maintenance double mechanical seal, a removable manway dump grid, a combination filter and vent, and a CIP spray ball.
Our optional Powder Induction & Conveying System (PIC™) adds the convenience and ergonomic benefits of feeding powders, solids and semi solids into a floor level hopper to transfer ingredients into the Admix LiquiShear blender.


LIQUISHEAR ACTION VIDEO (apx. 5 minutes)