The Alumni Association was incorporated on October 16, 1947 at Lowell Textile Institute. On March 13, 1976 Lowell State College and Lowell Technological Institute merged to become the University of Lowell. On September 1, 1991 legislation was enacted to merge the University of Lowell into the expanded University of Massachusetts system. The University of Lowell merged with four other campuses (Amherst, Boston, Worcester, Dartmouth) to become the University of Massachusetts at Lowell. The Alumni Association is located at 54 University Avenue in the Alumni Memorial Library, North Campus, Lowell, Massachusetts.
The Alumni Association is an independent non-profit organization. The purpose of the Association is to advance the interest and prestige of the University of Massachusetts at Lowell, to foster cooperation and understanding among students, faculty, administration, trustees, and alumni of the University thereby resulting in a unified University Community.
The Lowell Alumni Association is governed by the IUAAL Board of Directors which includes four (4) Officers, the Past President, 14 Directors and 5 members of the Nominating Committee. Five Officers are elected biennially for a period of two (2) years with no officer succeeding himself or herself in office after two (2) consecutive terms or four (4) consecutive years in office.
The Board of Directors consists of fouteen (14) persons, elected by and from the members of the Association who are entitled to vote. Eight (8) Directors are elected annually for a period of three (3) years, with no Director succeeding himself or herself in office after six (6) consecutive years. Two members of the Nominating Committee are elected annually for a period of three (3) years.
Any graduate who makes a yearly financial contribution of $35.00 to the Association becomes a member. The Alumni Association fiscal year begins on July 1st and runs through June 30th. This entitles one to the full privileges of membership, including the right to vote and hold office.
FROM THE DESK OF THE PRESIDENT
At each of the business, academic and social events I have visited over the last few years, I have been impressed by the energy of our alumni. As business innovators, distinguished academics, and community leaders, you bring the University's core values of invention, hard work, and excellence to your communities and your professions. Graduate alumni tell me that their Lowell University experience shaped them as people and as professionals.
The distinction of our Independent Alumni Association at Lowell (IUAAL) is clear. Through our annual membership, and charitable contributions, we continue annual gifting of scholarships and grants as they benefit UMass Lowell students. With your continuing membership and support, we remain a valuable tool for UMass Lowell's student scholarships and grants.
Our 2007-2008 IUAAL Scholarship & Awards Night was held January 31, 2008. We again celebrated these terrific hard-working students and parents accomplishments with a dinner. We were joined by our Distinguished Alumni Award winner and college Department Heads to whom we had awarded grants for their department projects. This year, we were honored by the attendance of the university's Chancellor Marty Meehan, who is a past Distinguished Alumni Award winner.
Our Endowment Fund portfolio performance continues to be impressive. In this present downturn in the market, the considerable care with managing and dispensing income from the portfolio continues to serve UMass Lowell students extremely well.
For a complete list of the 12 donor funds participating in the endowment and the 85 recipients of the 2008 scholarships, go to www.IUAAL.org and click on Scholarships in the menu at left.
As a member of IUAAL, you can help us continue our vital work in various ways. Are you using our "IUAAL affinity" credit card and auto insurance programs?
Members are entitled to:
Bank of America Master Card through IUAAL. Make your purchases in style while receiving top quality benefits and service with no annual fee!
Discounts on Auto, Home or Renters Insurance. Liberty Mutual offers competitive insurance rates through their Group Savings Plus plan.
Recognition in the Annual Report on Giving.
Check our website under Alumni News for more information.
The Spanner, published annually.
We enjoy social events together. This past year we visited Foxwoods in autumn, attended a Dinner/Theatre night in winter, and went to a Spinners baseball game in summer.
Save the date for our upcoming fall (October 15, 2008) day trip to FOXWOODS/MGMGrand. This is a popular event, so email or call for your tickets early!
Thank you for supporting us in keeping volunteerism alive and well. The more we continue to receive your support on various levels, the more we can give opportunities to our Lowell alumni, and scholarships and grants benefiting needs-based Lowell campus students.
If you have questions about any of the above, please contact us through our website or by contacting Marianthe Dabekis at 999-999-9999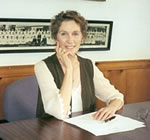 Sincerely,
Mary Ann Kitrosser
President
Independent University Alumni Association at Lowell
P.S. We need your collaboration as well as the Board's individual skills.
We need your views as well as your support. And, mostly we need YOU to be sure that our non-profit organization continues to be a strong business plan for benefiting UMass Lowell students.
View 2009 President's Letter
View 2008 President's Letter
View 2007 President's Letter
View 2006 President's Letter