The Alumni Association was incorporated on October 16, 1947 at Lowell Textile Institute. On March 13, 1976 Lowell State College and Lowell Technological Institute merged to become the University of Lowell. On September 1, 1991 legislation was enacted to merge the University of Lowell into the expanded University of Massachusetts system. The University of Lowell merged with four other campuses (Amherst, Boston, Worcester, Dartmouth) to become the University of Massachusetts at Lowell. The Alumni Association is located at 54 University Avenue in the Alumni Memorial Library, North Campus, Lowell, Massachusetts.
The Alumni Association is an independent non-profit organization. The purpose of the Association is to advance the interest and prestige of the University of Massachusetts at Lowell, to foster cooperation and understanding among students, faculty, administration, trustees, and alumni of the University thereby resulting in a unified University Community.
The Lowell Alumni Association is governed by the IUAAL Board of Directors which includes four (4) Officers, the Past President, 14 Directors and 5 members of the Nominating Committee. Five Officers are elected biennially for a period of two (2) years with no officer succeeding himself or herself in office after two (2) consecutive terms or four (4) consecutive years in office.
The Board of Directors consists of fouteen (14) persons, elected by and from the members of the Association who are entitled to vote. Eight (8) Directors are elected annually for a period of three (3) years, with no Director succeeding himself or herself in office after six (6) consecutive years. Two members of the Nominating Committee are elected annually for a period of three (3) years.
Any graduate who makes a yearly financial contribution of $35.00 to the Association becomes a member. The Alumni Association fiscal year begins on July 1st and runs through June 30th. This entitles one to the full privileges of membership, including the right to vote and hold office.
2007 - 2008 Board of Directors
Officers
Mary Ann Kitrosser '87A - President
John J. Carter '58 - Vice President
Thomas J. Vaughn '77ED - Secretary
Drucilla M. Daigle, '92HE - Treasurer
Kevin D. Shanahan, '70HI - Past President
Directors
Nominating Committee

Daniel Barrett, '04MBD
John J. Carter, '58BS
Walter Dawson, '59EE
Richard Donaldson, '67IM
George Duggan, '61CH
Paul Gerry, '96EE
Arthur P. Miller '51BS
John O'Donnell, '52TC
Thomas O'Donnell '82BS
Richard J. Russell, '61ME

John J. Carter, '58BS
Joseph Dixon, '59EE
Raymond F. Dunn, '58TC
Kevin D. Shanahan, '70HI
John M. Sheehan, '76CI
FROM THE DESK OF THE PRESIDENT
Our Independent University Alumni As-sociation at Lowell (IUAAL) community continues to be a caring, successful, volunteer com-munity with our common purpose to financially support students & departments of the UMass Lowell campuses.
Welcome to the Independent University Alumni Association at Lowell (IUAAL).
Dear members and friends,
2007 marks the beginning of the 60th anniversary of your Alumni Association!
Founded in 1947 at Lowell Textile Institute, merging with Lowell State College in 1976, to become the University of Lowell, and merged again into the University of Massachusetts system in 1991. By 2000 most large state schools changed their administration practices, and no longer felt a need for administrative and fund-raising services of then- smaller, non-profit organizations. Formerly named UMass Lowell Alumni Association, we became the Independent University Alumni Association at Lowell in 2002.
IUAAL gives annual scholarships and grants to deserving Lowell campus students. Year after year, we continue to take initiative, and help today's UMass Lowell students by providing annual scholarships that help alleviate some of the financial expense; as we have done for the past 59 years.
Accomplishments of IUAAL during the past year:
Held our annual Distinguished Alumni Award and Scholarship Awards Banquet for students, distinguished alum, and their families, on January 31, 2007.
Awarded our 31st Distinguished Alumni Award to Dr. Robert S. Smith. Since 1978, the Alumni Association has annually recognized an alumnus/a to receive this award. All recipients have been Lowell graduates, who have not only distinguished themselves by their accomplishments, but also the alumni as a whole.
Issued scholarship awards and grants totaling $117,000 to help support UMass at Lowell students.
Worked with UMass Lowell, Merrimack Valley Venture Forum, and the Lowell Chamber of Commerce for the purpose of publicizing the IUAAL scholarships and grants program.
Continued to offer member benefits that include savings on auto and home insurance through Group Savings Plus from Liberty Mutual and the no fee Bank of America Credit Card w/multiple redemption options.
Enjoyed social events, including - a night of dinner/theater, a baseball game, and a Mohegan Sun trip.
Remained the economical business model whose primary vision remains fixed on offering a lifetime endowment for annual scholarships & grants supporting UMass Lowell campus students.
Volunteers are not indifferent to the type of association at which they volunteer. There are a number of variables that affect a volunteer's choice. A few years after my graduation from the University of Lowell, I was asked if I would be interested in serving on the Board of Directors of the Alumni Association – my main interest was helping to maintain the financial scholarships program for students of working class families. Today, that is the main purpose of our association, and many, many students are grateful that we never stopped. This is an excerpt from a thank you we received, written by a student who received one of our 2007 scholarships…
"…It is an honor to be recognized for my hard work and receiving this scholarship motivates me to continue to strive for excellence. As I am finishing my senior year of the BSBA Program at UMASS Lowell, this scholarship support will help me to realize my dreams… Your great generosity has made a profound impact on my life and I am truly grateful to be the recipient of your scholarship.
Thank you for your continuous support to the University of Massachusetts Lowell.
Best regards, -P…"
We continue to need you as members, and we ask that you think about volunteering some of your time. Whether you can give one evening a month Sept. through June, or a few hours now and then to help us through some projects, or plan to join us in some of our events:
We need your collaboration as well as the board's individual skills.
We need your views as well as your support.
We need YOU.
Anyone interested in obtaining more information concerning working with the IUAAL, or establishing a scholarship in their name or the memory of a loved one, can reach us through our website at www.iuaal.org, or contacting Marianthe Dabekis at 999-999-9999.
Thank you for your membership and your giving to a most worthy cause.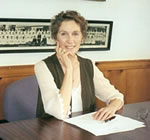 Sincerely,
Mary Ann Kitrosser
President, Independent University Alumni Association at Lowell
View 2009 President's Letter
View 2008 President's Letter
View 2007 President's Letter
View 2006 President's Letter