MTM Trading Programs and Attain Capital Management have formed a Strategic Alliance to help facilitate the client who is interested in using the MTM25 or MTM100 Trading Programs. Both firms bring years of experience and expertise in this specialized field of alternative investing. Attain Capital also has extensive experience in managing it's own multimillion dollar alternative investment fund.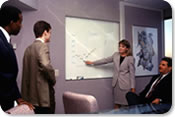 It is imperative when a systematic trading program is properly developed, that it be employed in the markets during real time application in a disciplined manner. Strict discipline does not gurantee profitability, but it does maintain the credibility of the research that created the trading approach. If disciplined isn't maintained, the research effort becomes meaningless and the continuity of the trading cycles are disrupted, which invalidates the approach all together. We recognize there may be some who don't agree with a systematic or what some may refer to as a 'black box' approach to the markets, but it is common knowledge that the vast majority of managers controlling the majority of trading capital in the managed futures industry use a systematic or 'black box' approach to the markets.
Attain Capital Management is an ideal candidate because of their professional understanding of the importance of implementation with the utmost in trading discipline. The quality of the trading program can only be exploited when applying a strict level of discipline and MTM will only work with a broker who understands this and is capable of a disciplined execution with the trading program.
Attain Capital's professional traders are located in the heart of Chicago and will handle all of the execution of the trade recommendations offered by MTM. Attain Capital Management believes that an investment portfolio with exposure to alternative investments using technically based trading systems can provide wealth management solutions to individual investors, which is the backbone of Attain Capital's services.
Attain Capital is a perfect fit in joining forces with MTM Trading Programs to ultimately help clients try and reach their investment goals.
Attain Capital Management, LLC
111 W. Jackson Blvd, Suite #515
Chicago, IL 60604

Telephone: 800-311-1145
Fax: 312-692-4939
Email: invest@attaincapital.com
Authorized Representatives:
We have authorized a few select firms to represent MTM trading products. If you were sent to this website by an Authorized Representative, please go back to them to subscribe to MTM products and open your account. All clients referred to this site by Authorized Representatives will remain their clients. No advantages are available to those contacting MTM or Attain Capital directly, who have been referred to this site by an Authorized Representative. MTM and Attain Capital will protect all client relationships of the following Authorized Representatives:
Bonfitto Trading