Laser Science, Inc. products are incorporated in analytical and diagnostic instrumentation and used on a stand-alone basis for a wide range of applications. The ruggedness of our products is substantiated by their deployment under the Antarctic Ice and in rockets. Some practical applications information is included in this section.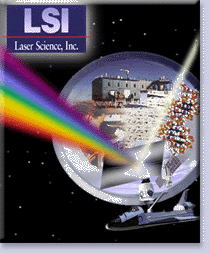 Our technical staff is experienced in helping customers select lasers for particular needs and designing lasers into instruments. Some application areas include:
Teaching-Physics, Chemistry, Biology
Microscopic Fluorescence Imaging
SELDI-TOF Mass Spectrometry
Time-Resolved Spectroscopy
Laser Induced Fluorescence
Particle Image Velocimetry
Laser Induced Acoustics
Radiation Dosimetry
Medical Diagnostics
Laser Microablation
Photoconductivity
Materials Science
Cell Stimulation
Range Finding
Spectroscopy
Cell Ablation
µ-CALI
Microsurgery
Drug Screening
Remote Sensing
Cancer Detection
Target Designation
Fluorescence Assay
Biological Screening
Detector Calibration
Kinetic Phosphorescence
Environmental Monitoring
Caged Compound Release
Microcircuit Board Clean-Up
Time-Resolved Fluorescence
MALDI-TOF Mass Spectrometry
Capillary Electrophoresis Detection
And many more!
In order to keep track of our lasers, we initiated a Reward Program in late 1999. Users submit publications for our bibliography. You may view this by clicking on the Bibliography button at the left.
Please let us help you. You may use the Contact Us form or phone us directly at (508) 553-2353 or fax us at 888.888.8889. Or go to our Distributor Web page to find a representative in your area. We would love to hear from you!