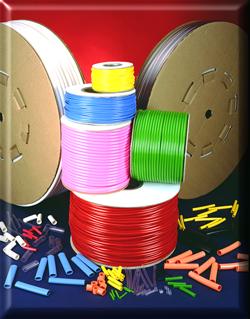 INSULTAB can create a thermoplastic tubing product to meet your specific application requirements
Multiple polymers are available such as PVC, polyolefin, polyethylene, Elvax®, Surlyn®, Nucrel®, TPE, polypropylene, polyurethane, EVA, ethylene copolymer, ionomer, and various alloys
Color matching is available
Multiple sizes, configurations, shrink ratios, and lengths can be supplied
Challenge us with your demanding applications!
Elvax®, Surlyn®, and Nucrel®; are registered trademarks of E.I. du Pont de Nemours and Company.
company | products | services | what's new | faq's | contact us | search | Sitemap | Resources | home