Pro-Lab Series - Clean Room
Adjustable Height - Model CR-MVSII
The MVSIICR Electric Height Adjustable Class 100 Clean Room workbench.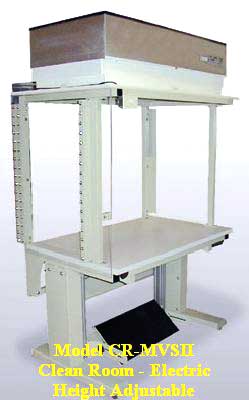 A 1000 pound capacity, height adjustable station adjusts from 30.5" to 46.5" high via push button.
Station adjusts with electric lead screws with HDPE guide system.
Top of surface enclosed on three sides with Plexiglas with a class 100 HEPA filter on top.
Curtain of clean air flows across the front and top surface for class 100 working environment.
Adjusts from 30.5" to 46.5"
(16" total travel).
CRMVSIICR Models have 1,000 lbs. capacity and a traverse rate of 0.5 inches per second at full load.
Accessories
Part #CRRF Replacement Prefilters, 12/case.
Part #CRHF Replacement HEPA Filter
Optional Clean Room Light, Part #CROL


(must be ordered with the station, factory installed)

.
Specifications
48"L x 30"W x Electric Adjust Height 30.5 to 46.5"
Top Work Surface
Part No.
Wt.
In Stock?
Plastic Laminate
CRMVSII4830PL
415
No
ESD Laminate
CRMVSII4830ESD
415
No
H.D.P.E
CRMVSII4830HPDE
415
No
48"L x 36"W x Electric Adjust Height 30.5 to 46.5"
Top Work Surface
Part No.
Wt.
In Stock?
Plastic Laminate
CRMVSII4836PL
440
No
ESD Laminate
CRMVSII4836ESD
440
No
H.D.P.E
CRMVSII4836HPDE
440
No
60"L x 30"W x Electric Adjust Height 30.5 to 46.5 inches
Top Work Surface
Part No.
Wt.
In Stock?
Plastic Laminate
CRMVSII6030PL
491
No
ESD Laminate
CRMVSII6030ESD
491
No
H.D.P.E
CRMVSII6030HPDE
491
No
60"L x 36"W x Electric Adjust Height 30.5 to 46.5 inches
Top Work Surface
Part No.
Wt.
In Stock?
Plastic Laminate
CRMVSII6036PL
511
No
ESD Laminate
CRMVSII6036ESD
511
No
H.D.P.E
CRMVSII6036HPDE
511
No
72"L x 30"W x Electric Adjust Height 30.5 to 46.5 inches
Top Work Surface
Part No.
Wt.
In Stock?
Plastic Laminate
CRMVSII7230PL
505
No
ESD Laminate
CRMVSII7230ESD
505
No
H.D.P.E
CRMVSII7230HPDE
505
No
72"L x 36"W x Electric Adjust Height 30.5 to 46.5 inches
Top Work Surface
Part No.
Wt.
In Stock?
Plastic Laminate
CRMVSII7236PL
530
No
ESD Laminate
CRMVSII7236ESD
530
No
H.D.P.E
CRMVSII7236HPDE
530
No

top of page