Pro-Lab Series
How to design your own modular lab bench.
Architects and Facility Engineers:
Send us a copy of your layout for details and pricing.
A. Chose a base
Need options above the surface?
B. Select uprights
Going mobile?
C. Select casters
Need a footrest?
D. Select Footrest
Resuire under surface storage?
E/F. Select drawers or cabinets
Need power?
G/H. Chose power supply
Need undershelf lighting?
I. Select a light
Need overhead storage?
J. Select cabinet or shelving.
Need wire management?
K. Select a wire trough

Model#
A. HDL603034CG
B. UR60
C. TLC-4
D. FR60
E. C1-6-SDL26
F. C1-6-SDR26
G. ESMR60
H. ES48
I. LT48
J. SDC60/SGLD
K. WMS1.5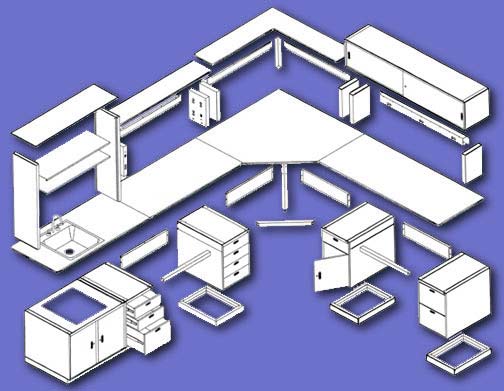 Optional ESD/UHMX drawer dividers available in a variety of configurations.
Please call for details.

top of page