Construction Real Estate and Home Improvement, Corporate Services
Many of the online directories focus towards one market segment or audience profile. Here, we target the "best in class" for each of the served markets by industry leaders in their respective fields. Find a category that you feel is most relevant to the content of your site, or that attracts a customer demographic you wish to reach. Provide a title and URL and submit to this directory.
Corporate Business
Business web directory and online Internet marketing center, offering powerful promotion opportunities to your business and website. Maximize traffic to your website by submitting to the directory. Categorized in 7 main groups, including Consulting, Manufacturing, Internet Services, Professionals, Health, Pharmaceutical, Software & Telecommunications and Transportation.
Real Estate and Home Improvement
A real estate related sites and services directory, related articles and real estate directories list. This category also includes a comprehensive home improvement directory related to home decor and home improvement resources and information. Remodeling, real estate brokers, and property management firms are located here.
Brokers & Agents
Home Improvement
Management & Repairs
Property Management
Search Engines
A leading business search engine and business directory designed to help its users find the companies, products, services, and information they need to make the right business decisions.
ALLTHEWEB
ALTAVISTA
AOL
EXCITE
GO
GOOGLE
GOTO
LOOKSMART
LYCOS


In order of popularity:
MAGELLAN
MAMMA
MSN
NBCI
NETSCAPE
NORTHERNLIGHT
WEBCRAWLER
YAHOO
More...


In order of popularity:
business directory | corporate, financial & education directory | real estate & search engine directory | manufacturing directory | software, non-profit & retailers directory | company directory
Services


Title V Inspections- 15 years experience
Call us BEFORE you list your home!(scroll down for complte Title V info)
Septic System Pumping
Tight Tank & Cesspool Pumping
Septic System Maintenance
Septic System Installation
We can design a system for your home that is efficient &cost effective. Remember advise is always
FREE at Cape Ann Septic.
Sewer Connections

Our Excavation Services include:
Commercial, Residential Site Work
Foundation Excavation
Drainage/Recharge System Excavation & Installation
Water & Sewer Main Excavation & Installation
Tree & Stump Removal

Commercial Accounts
Includes restaurant, grease traps, industrial, apartment complexes, and condo associations
30 day invoicing available

Emergency flood pumping of basements
Title V Inspections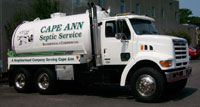 Title V refers to the Massachusetts regulations that govern the criteria for design and performance standards of a septic system. Created by the Massachusetts legislation on March 31, 1995, the purpose of the Title V inspection of septic systems is to protect waterways and the environment in general. The Title V inspection is a multipage report that describes the current condition of a system. This includes, among other things, the functioning and structural integrity of the septic tank, pipes and distribution box.
Performed by a state-certified system inspector, Title V inspections are required before selling a home, when a home is inherited, if the property goes from residential use to business use, and sometimes, when building a home addition, or adding a backyard shed septic systems that fail must be repaired within two years. Title V criteria are based on conditions at the time and day of inspection and do not provide information as to the future performance of any septic system.
Consider the following before hiring a Title V inspector:
Is the inspector licensed by the State of Massachusetts DEP?
What is their pricing structure? (Flat rate, hourly, hourly plus hidden fees) Cape Ann Septic provides a contract with all costs clearly outlined.
What will the inspection entail?
Hire an inspector that works in your town on a regular basis.
On the day of the Title V inspection, the inspector will :
Use as-built drawings to mark septic system components locations on property
Dig necessary components and inspect their condition
Make notes if the system's existing locations, depths and conditions
Photograph existing site and components
Backfill and clean up
Write official Title V report ( A copy of the inspection will be sent to the homeowner, and the local board of health. We retain a copy for our records. )
Cape Ann Septic is fully licensed by the state with 15 years of experience!
Septic System Tips
Have your septic tank pumped and inspected regularly every one to two years, depending on the amount of people living at the residence.
Practice water conservation, because leaky toilets, showers, and faucets will cause undue stress on your septic system.
Learn where your system is located and keep a sketch of how to find it. Contact the local Board of Health if you don't have a sketch.
keep a record of all maintenance that is performed on your septic system, including pumping.
Make sure the septic tank cover is always accessible, and install a riser if necessary.
Educate everyone in the residence about what is good and bad for the septic system to help extend its life expectancy.

DON'T
Do not use chemical additives on your septic tank because most disrupt the natural digestion that takes place, resulting in solids floating in the tank and entering the drain fields.
Do not put hazardous chemicals down the drains in your house or wash paintbrushes inside.
Do not drive over or park on any part of the septic system.
Do not plant anything over the drain field because roots may grow into leaching fields and clog or damage drain lines.
Do not connect your water filter backwash drain to the septic system.
ABSOLUTELY do not flush coffee grinds, dental floss, kitty litter, tampons, condoms, paper towels, sanitary napkins, grease, fats, oils, disposable diapers, paints, paint thinner, or cigarette butts.