The Gateway Center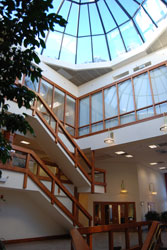 Our Building and Its Location
Strategically located directly off Interstate Route I-93 at Exit 13 , with almost 46,000 square feet of Class-A office space, The Gateway Center is a stunning showcase for business offices, professional suites, educational, and technical facilities. A designated Office Suites section of the building focuses on small to medium size tenancies. Office Suites tenants have free use of two conference rooms. Recognizing that workplace selection is one of the most important decisions a firm will make, our management collaborates closely in the design and ultimate buildout of every tenant's facility.
Neighborhood Amenities
The Gateway Center is just a short walk to restaurants, food and service outlets, several motels, a drug store, and fitness center. Government buildings, the Capital Center for the Arts, and historic Concord's many businesses, shops and activities are a few blocks down South Main Street.
Our Commitment to Environmental Responsibility
One of New Hampshire's largest solar photovoltaic systems , located on our building's rooftop and south wall, employs sunlight to generate much of our electrical power. Our solar powered generating system is just the most visible component of management's ongoing commitment to efficiency in energy and water use and to the recycling of waste materials. We are constantly striving to minimize our carbon footprint.
Our Relationship with Tenants, Employees, and Visitors.
Most importantly, we acknowledge the importance of attending to the unique needs of everyone at the Gateway Center, whether they are tenants or patrons. We know what a pleasing, up to date physical environment coupled with responsive management can do to enhance satisfaction, productivity, and ultimately to create long term relationships. You are cordially invited to contact Don Eaton dce@grubbellisnne.com, who leads our property management team at Grubb & Ellis/Northern New England, for further information or assistance.
We are a Better Business Bureau accredited business with a BBB rating of "A+"