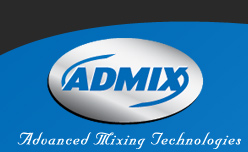 Turn Waste Into Profit!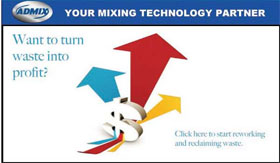 Admix will show you how to reclaim waste and out-of-spec product for increased profits and lower costs. We've developed the technology to support a more efficient process that allows you to rework waste product, reclaim it and add it back into the process.
Click on any product listed below to read a brief process summary and the Admix solution for ways to reduce waste.
*Check back soon... additional success stories to be added!
Tomato: Pomace
Opportunity: When it comes to pomace rework, the obvious goal here is to get as high a yield as possible and reduce costly waste. Increased yield also means decreased pomace. The ability to rework pomace is big business and can mean big returns for the tomato processors.
Processing Method and Admix Solution: The process for rework, both with and without seeds, is currently being used by major tomato processors utilizing the Admix Boston Shearmill.
In order to effectively rework the pomace, you can either remove the seeds or pulverize them and add milled skins and seeds back in small percentages. The seeds, normally responsible for small white specs and a bitter taste, can be effectively pulverized by the Boston Shearmill so that the seeds cannot be detected and are added back in a small percentage so that taste is not effected.
Reducing waste and increasing yield are not the only benefits from pomace rework. The skins are very desirable for their fiber, pectin, vitamins, and lycopene. Added fiber and pectin produce a richer paste with improved Bostwick. Lycopene, responsible for the red in tomatoes, is especially desirable as it is a powerful antioxidant linked to a number of miraculous benefits such as preventing heart disease and prostate cancer. An added benefit to us here is that lycopene is easier for the body to absorb and therefore more powerful after processing. Other processes in the plant also create usable pomace, as most skins have to be removed before tomatoes are canned.
The reworked pomace is added back into the process before the finishers, allowing for more material to be processed into paste.
Boston Shearmill is capable of getting the skins and seeds down so that they easily pass through an .060 screen. The rework is added back at about 1% if the skins and seeds have been milled and as high as 10% if the seeds have been removed and skins are the only material that has been milled.
Click image above to view a 3-minute video and hear how Admix mixing solutions can help Tomato processors!
Hard Candy Pieces: Rework and Reclaim Out-of-Spec Product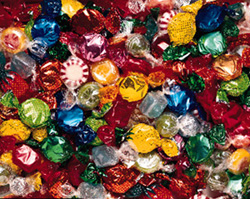 Opportunity: A major confection manufacturer was struggling with waste issues. As an existing Admix customer, they contacted us for a solution to their newest mixing challenge.
Processing Method and Challenge: Their processing line, at times, produced high volumes of out-of-spec hard candy. They needed to find a way to reclaim this waste and reuse these ingredients.
Admix Solution: After pilot testing in our lab (see video), Admix recommended our Rotosolver technology. The processor is currently reprocessing these out-of-spec candy pieces at 70% solids into ambient water in just under 15 minutes and using all of the previous waste as add-back in new product!
Return on Investment: Reduce waste; Reclaim out-of-spec product; Faster Processing & Capacity Improvements; Higher Product Quality & Uniform Consistency
See the Rotosolver in Action!!!

Click The Play Button to View

our Candy Reclaim Video
Tortillas: Reclaim and Rework Out-of-Spec Product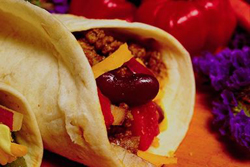 Opportunity: A manufacturer of baked flour and corn tortillas contacted Admix with a desire to improve their reworking of out-of-spec tortillas.
Processing Method: The rejected out-of-spec tortillas were being dry chopped in a dry grinding mill and added back to the batter to be rebaked.
Processing Challenge: The rebaked product was too lumpy and inconsistent. The manufacturer wanted to take the chopped tortillas and mill them into a smooth, uniform batter that would produce a quality-baked tortilla.
Admix Solution: The Admix sales representative visited the processor's facility and performed a 7-gallon demo using our Rotostat high shear emulsifier with a 1:1 ratio of chopped tortillas to ambient water. The customer was pleased with the smooth, uniform batter achieved in just 3 minutes!
It was then that the Admix representative demonstrated something even better... a second successful demo was performed using whole tortillas! The processor could eliminate the chopping/grinding step from their process! The customer was ecstatic and placed an order.
Return on Investment: Eliminate Chopping/Grinding Step; Faster Processing & Capacity Improvements; Higher Product Quality & Uniform Consistency
Cereal Bars: Reclaim and Rework Out-of-Spec Product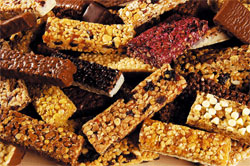 Opportunity: A snack food manufacturer was experiencing waste issues with out-of-spec cereal bars.
Processing Method and Challenge: The rejected out-of-spec cereal bars were not being reclaimed. The processor needed a way to rework these ingredients and reduce waste.
Admix Solution: Admix performed testing in our lab and recommended using a Rotosolver high shear disperser to mix chocolate creme with whole cereal bars in small 80 gallon batches. This mixture is then pumped over to a larger tank through a Boston Shearmill for further particle size reduction. Chocolate is added to this mix and the final mixture is added back into the process as middle filling in newly created cereal bars.
Return on Investment: Reduce waste; Reclaim out-of-spec product; Faster Processing & Capacity Improvements; Higher Product Quality & Uniform Consistency