Low Vision Aids
Perhaps it's been a while since you've been able to read a letter from your grandchild or sign a check to pay a bill…or enjoy looking at photographs. If you have Macular Degeneration or another low vision condition, then an Optelec video magnifier can give you back the ability to read and write at home, work, or school. No Longer being Visually Impaired.
Optelec Magnifier and Video Magnifier provide higher magnification and a wider field of view than hand-held magnifiers. If you currently have trouble seeing because of Glaucoma, and Catataracts we strongly suggest you consider purchasing a video magnifier. Our video magnifiers are for Low Vision. Simply place your reading material on the viewing table and see it projected onto a screen magnified to a size that is right for you. Whether you choose black and white or full color, the magnified image is always sharp and clear.

Now you can read the newspaper or a novel, work on your needlepoint or stamp collection, read a medicine bottle or a package label - with an Optelec video magnifier, independence is yours. To see a sample of Diabetic Retinopathy please refer to the journal of medicine. Optelec is a developer of Low vision and Video Magnifier vision aids for people who suffer from cataracts, glaucoma, diabetic retinopathy, and macular degeneration.

---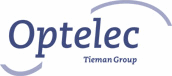 See For Yourself
©1999 Optelec U.S., Inc. All Rights Reserved.