Experience
Nationwide Permitting Services has performed work across the country; from the Northeast to Southern Florida, across to the Northwest and down to Southern California. We have performed permitting services for clients in all 48 contiguous states. This experience gives us the knowledge to manage multiple projects in concurrence whether they are in the same municipality or on opposite sides of the country. Our experience map is shown below: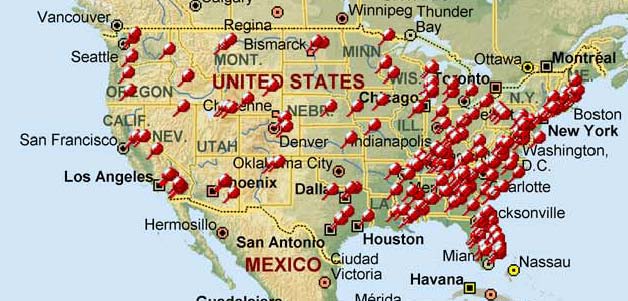 Experience – Fairpoint Communications Example
In mid June of 2008, NPS was approached by a company that we had pulled permits for in the past. But this time, they had a slightly larger project in mind. They had just won a rollout that had them manufacturing and installing building signage in 379 locations in the northeast.
Nationwide Permitting Services was tasked to design a system that would allow them to have all permits pulled in 3 months time. The project was to begin in early July so we had only two weeks to prepare. By drawing on previous rollout experience, we staffed a team and put our tried and true methods into place. A custom reporting tool was created through our Permit Tracking Center which gave the client 24-hour access to all their permitting information. The project execution plan was created and implemented and ultimately, all 379 permits were pulled in less than three months.
If you have a similar project, contact us, we can help.
Experience – Pattison Sign Example
"Another recent example of our permit management practices can be seen in our work with Pattison Sign Group. One of their major clients, Toyota, was undergoing a sign rollout and Pattison wanted our help to smooth the permit process. Each project has a different scope and more importantly each project has a different owner. We have developed a process that allows an efficient flow of information through all parties involved in each project."
If you have a similar project, contact us, we can help.
Experience – AT&T Example
When Cingular Wireless was bought by AT&T there were thousands of stores all over the US that needed to be rebranded to the new AT&T Wireless model. We were contacted by the Property Management company Jones Lang Lasalle (JLL) to help manage the building permit process for these tenant improvement projects. We worked with JLL and multiple General Contractors in certain regions to maximize the rate at which stores were being renovated. After the rebranding process was finished we were kept on as a partner with some of the contractors that we developed relationships with while working on the AT&T/Cingular program.
If you have a similar project, contact us, we can help.
Experience – Security Vault Works - Bank of America Example
"Security Vault Works is a company that specializes in building ATM locations for Bank of America. This is a very typical client that understands the value of a permit expediting partner, when SVW thinks 'permits' they think about us, and you should too. When SVW has a project coming up we are simply given the address and scope of work to complete the necessary due diligence in order to inform and be prepared when the permit documents are ready. We handle the permit process for all of SVW's projects anywhere in the country acting as a one stop shop for their building permit needs. We are always looking for companies constantly working in multiple jobs in multiple locations to show how we can improve their overall permit process."
If you have a similar project, contact us, we can help.