Merrimack Stone Industries (MSI), whose Italian-born founders have accumulated decades of experience in the stone industry was created in 1991. Its activity has ranged from supply to manufacturing to installation of marble, granite, and limestone products both in the USA and overseas.

Manufacturing
In 1995, MSI opened its manufacturing plant in Merrimack, NH. This facility is equipped with the most modern stone production equipment available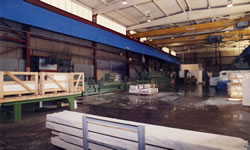 today in the industry. It allows MSI to produce a wide range of sophisticated architectural stone products and come up with innovative solutions to challenging architectural problems.
Installation
MSI has experienced its greatest success in projects where the company installs the products it manufactures. We are proud to be one of a very small number of companies in the United States to have in-house production and installation capabilities. There are enormous advantages for the project owners when one company is able to provide both production and installation of stone products, both in terms of time and money.
about us | products | services | historical restoration | portfolio
what's new? | photo gallery | contact us | home