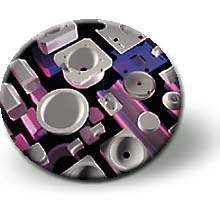 This section includes information on Labsphere's broad selection of diffuse reflectance coatings and materials for use in the ultraviolet, visible and infrared spectral regions.

Spectraflect, Duraflect, and WRC-680 diffuse white coatings for applications covering the UV-VIS-NIR wavelength region; Infragold and Infragold II coatings for applications covering the NIR-MIR-FIR wavelength regions and, Optoblack diffuse black coating for applications ranging from the UV to the IR. Check out our OEM and Custom Capabilities!

Our proprietary, Spectralon material is available in three grades - optical, space and laser grade - offering a choice of materials to meet any reflectance component application. We specialize in OEM and custom component fabrication to meet your exact requirements.