Material Handling
Mobile RBT
Mobile RBT units are ideal for building assemblies in place and moved to subsequent processing stages. Eliminate lifting strains.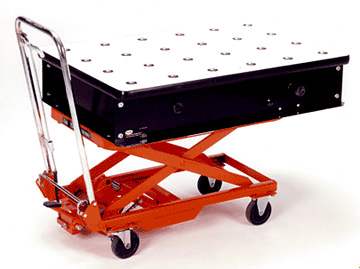 These Retractable Ball Transfers are available with both Lever and Air operation. The air operated models need 60 psi. shop air.
Our SD model has 200 lbs. Capacity with the transfers on a 6" x 6" pattern.
Our HD model has 500 lbs. capacity with the transfers on a 3" x 6" pattern.
Height of MRBT is 7.375 inches.
Illustration Note: The Hydraulic Scissor Lift is shown grayed out, it is sold separately.
Specifications
AIR OPERATED MRBT
Standard Density (SD), 6 x 6 Ball Pattern, Full Coverage
Stock #
Size W x L, Ball Pattern
Wt
MRBT1824-ASD
18"W x 24"L, 6" x 6" (SD)
56
MRBT2424-ASD
24"W x 24"L, 6" x 6" (SD)
66
MRBT2430-ASD
24"W x 30"L, 6" x 6" (SD)
78
MRBT2436-ASD
24"W x 36"L, 6" x 6" (SD)
89
MRBT3030-ASD
30"W x 30"L, 6" x 6" (SD)
88
MRBT3036-ASD
30"W x 36"L, 6" x 6" (SD)
98
MRBT3636-ASD
36"W x 36"L, 6" x 6" (SD)
106
High Density (HD), 3 x 6 Ball Pattern, Full Coverage
Stock #
Size W x L, Ball Pattern
Wt
MRBT1824-AHD
18"W x 24"L, 3" x 6" (HD)
65
MRBT2424-AHD
24"W x 24"L, 3" x 6" (HD)
76
MRBT2430-AHD
24"W x 30"L, 3" x 6" (HD)
88
MRBT2436-AHD
24"W x 36"L, 3" x 6" (HD)
99
MRBT3030-AHD
30"W x 30"L, 3" x 6" (HD)
98
MRBT3036-AHD
30"W x 36"L, 3" x 6" (HD)
108
MRBT3636-AHD
36"W x 36"L, 3" x 6" (HD)
116
LEVER OPERATED MRBT
Standard Density (SD), 6 x 6 Ball Pattern, Full Coverage
Stock #
Size W x L, Ball Pattern
Wt
MRBT1824-LSD
18"W x 24"L, 6" x 6" (SD)
56
MRBT2424-LSD
24"W x 24"L, 6" x 6" (SD)
66
MRBT2430-LSD
24"W x 30"L, 6" x 6" (SD)
78
MRBT2436-LSD
24"W x 36"L, 6" x 6" (SD)
89
MRBT3030-LSD
30"W x 30"L, 6" x 6" (SD)
88
MRBT3036-LSD
30"W x 36"L, 6" x 6" (SD)
98
MRBT3636-LSD
36"W x 36"L, 6" x 6" (SD)
106
High Density (HD), 3 x 6 Ball Pattern, Full Coverage
Stock #
Size W x L, Ball Pattern
Wt
MRBT1824-LHD
18"W x 24"L, 3" x 6" (HD)
65
MRBT2424-LHD
24"W x 24"L, 3" x 6" (HD)
76
MRBT2430-LHD
24"W x 30"L, 3" x 6" (HD)
88
MRBT2436-LHD
24"W x 36"L, 3" x 6" (HD)
99
MRBT3030-LHD
30"W x 30"L, 3" x 6" (HD)
98
MRBT3036-LHD
30"W x 36"L, 3" x 6" (HD)
108
MRBT3636-LHD
36"W x 36"L, 3" x 6" (HD)
116

top of page