Packaging is Our Business
With over 50 years of operation in the packaging
field, Horn Packaging Corporation would like to
extend a warm thank you to our customers, both
large and small, for their continued support. We
encourage those who do not presently purchase
from us to call and take full advantage of our
experienced and dedicated staff.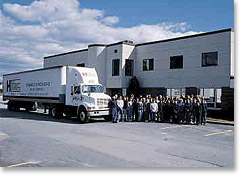 ISO 9001 Certification
Assures Quality Products
Providing exceptional quality is no accident. Horn Packaging carries only quality products, manufactured by quality minded companies, as evidenced by our ISO 9001 certification.
Customer Service
Prompt, efficient, courteous service is what you receive when dealing with Horn's customer service department. Our team of professionals understands the importance of a quick and accurate response to your questions and needs.
More Than Just Cartons
In many instances, a variety of components are required in order to make one complete package. For example: internal cushioning, corrugated carton, tape, packing list, strapping, stretch film, etc. That's why we carry a broad range of items, each designed to meet your specific needs.
Stock and Custom Corrugated
We have a large selection of stock cartons, each style designed to accommodate a variety of products. We are ready to deliver at a moment's notice.
We Warehouse
Items are stocked at one of our warehouse locations located throughout New England. This enables us to respond to your needs quickly and efficiently.