Dr. Margaret Driscoll is Director of Strategic Ventures for IBM Mindspan solutions. She has authored many papers, articles, and columns on e-Learning, as well as her critically acclaimed book, Web-Based Training: Using Technology to Design Adult e-Learning Experiences.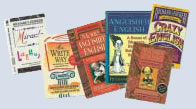 Richard Lederer is the author of more than 3,000 books and articles about language and humor, including his Anguished English series. Dr. Lederer's syndicated column, 'Looking at Language', appears in newspapers and magazines as divers as The New Yorker, People, and the National Enquirer. He appears regularly on 'Weekend All Things Considered' on National Public Radio.
Clark Aldrich, EVP of Product Development at SimuLearn, was chosen as one of three eLearning gurus by Fortune Magazine. Before co-founding SimuLearn Clark was responsible for launching and building eLearning programs and strategies at The Gartner Group. Clark is a frequent conference speaker, and writes the monthly Industry Watch column for OnlineLearning magazine. Clark holds a bachelor's degree in artificial intelligence and cognitive science from Brown University.
Bernard Aschwanden is an Adobe Certified Expert in FrameMaker, FrameMaker+SGML, and Acrobat, as well as Quadralay Certified in WebWorks Publisher. He has a solid background in technical documentation, having helped hundreds of companies implement documentation solutions. Bernard has also delivered software training and presentations on publishing tools and technologies throughout the US, Canada, and Europe.
Dwight Baer is the author of two technology textbooks: Learn Unix in 15 Days and Building Speech Applications using VoiceXML. Dwight first delivered VoiceXML classes and wrote VoiceXML curriculum materials for VoiceGenie Technologies Inc. in Toronto. He has presented numerous XML seminars in the past year while also writing technology news for a bi-weekly technology newsletter. Dwight is a Microsoft Certified Systems Engineer and Trainer.
Ed Donohue, VP of Product Development for RemoteSite Technologies, is a Macromedia Certified Cold Fusion Developer and Instructor. Ed is internationally published in the Cold Fusion Developer's Journal in the area of web development methodology, and is a frequent speaker at major international user conferences, where his sessions have some of the highest levels of attendance. With over 15 years of experience in the IT industry, he has both an extensive background and a special interest in web development.
Mike Doyle, a Macromedia Certified Dreamweaver Developer, has been in the technical communications industry for almost 20 years, including 15 years as the Senior Lecturer in the UMass-Lowell Technical Communications Program. Mike has 7 years experience leading the group within PUBSNET that develops web-based information (web design by web designers, www.theeditors.com). He teaches courses on HTML and a variety of web development tools including Dreamweaver. Mike is currently writing the book Dreamweaver MX e-Learning Toolkit: Building Web-Based Training with CourseBuilder for Wiley Publishing (release is Spring, 2003).
Donna Dunn is currently responsible for business development at Adobe Systems for FrameMaker and Acrobat. She has been involved in the publishing industry for over 20 years. She has served both technical roles as an Applications Engineer and sales roles as an Account Manager at companies such as Xyvision, Agfa, and Frame Technology.
John Garison, a Documentation Manager at IDe, has almost 30 years experience as a consultant, writer, manager, teacher, and conference speaker on software documentation. For the last eight years, he has worked almost exclusively on online applications and information delivery, writing his first HTML-based help system in 1996. For almost 2 years, John has been using Dreamweaver to develop HTML-based Help. John holds a B.A. in English and Philosophy from Tulane University.
Kevin Gibson is an Adobe Certified Expert in Acrobat, InDesign, Photoshop, Illustrator, GoLive, and PageMaker. Specializing in Acrobat and PDF Publishing, Kevin has over 6 years of diverse background in both print and web publishing. With his background in computer graphics, Kevin has helped to defined and deliver workflow and user interface requirements for database driven web applications.
Susan Holbert has been an indexing consultant for almost 20 years, having indexed more than one hundred books and manuals, ranging from programming textbooks to the autobiography of Rosalyn Carter. In addition to consulting on indexing for numerous technology and business firms, Susan created and delivers two very popular indexing seminars, and helped design an indexing software program, wINDEX. Susan received her B.A. from Wellesley College.
Casey Holt has over 20 years as a results-driven writer, creative director, producer, and manager in client, agency and vendor environments His concepts, copy, and finished works have helped generate substantial sales volume for businesses in many categories, including retail, technology, manufacturing, broadcasting, healthcare, and entertainment. Casey holds degrees in Communications and Art from the University of New Hampshire.
Karen Holtzblatt, President of InContext Enterprises, is a recognized leader and has coached product teams throughout the industry in design based on customer data. Her clients include industry giants such as Microsoft, IBM, Hewlett Packard, Novell, Agilent, and Nokia. She is co-author of Contextual Design: A Customer-Centered Approach to Systems Designs. Karen holds a doctorate in Applied Psychology from the University of Toronto.
Christy Jackson is an Adobe Certified Expert in FrameMaker, as well as a practicing technical writer and accomplished FrameMaker trainer. Christy has worked in Europe, Canada and the United States to deliver solutions focused on documentation and best practices for writers.
Vanessa L.M. Johnson is a Computer Applications Training Specialist (CATS) with substantial experience teaching Microsoft desktop applications to audiences ranging from end users to computer programmers. Vanessa teaches the full range of Microsoft desktop applications, including Microsoft Word, Excel, Powerpoint, and Outlook.
Dr. Vijay Kanabar has been teaching at Boston University for nearly eight years and has been consulting and teaching in the areas of IT and Project Management for more than 22 years. Dr. Kanabar is the author of several books in the areas of IT and Project Management, and has been recognized with numerous awards for outstanding teaching and research. Dr. Kanabar holds graduate degrees in Computer Science from Florida Tech and a Ph.D. in Information Systems from Manitoba.
Ben Kauffman is currently a Senior Technical Editor at Cadence Design Systems. Before joining Cadence, Ben worked as a technical and web editor at Agfa Corporation. His focus has been on developing minimalist technical information, which has three-fold benefits: better readability, lower translation and printing costs, and easier reuse. Before moving into technical editing, Ben taught writing and literature for 5 years at Emerson College.
Pamela Kostur is a Senior Consultant with The Rockley Group, and has more than 13 years experience developing various types of user material, including designing and creating online materials for intranet, internet, and web-based training. She has presented many workshops and conference sessions related to writing and information development. Before joining The Rockley Group, Pamela was the Communication Manager for SaskTel Mobility in Regina, Saskatchewan (Canada).
Dr. David Locke has worked with computer documentation and training since 1983, specializing in online information systems. He develops online systems and provides consulting and training for a nationwide client list. David is certified by eHelp as a Robohelp consultant and trainer.He presents regularly at local, regional, and national conferences, and at other computer training events.
Christine Perfetti is a consultant and usability expert at User Interface Engineering, and has been a top-rated presenter at CHI 2001 and 2002, the UIE Research Forums, Intranets 2001, and STC regional conferences. Before joining UIE, Christine previously worked at Fidelity Investments as an influential member of their instructional design team. Christine received her Master's degree in Experimental Psychology from Brown University.
Neil Perlin, owner and principal consultant of Hyper/Word Services, entered technical writing in 1979, began creating online documentation in 1985, and is now an internationally recognized expert in Help and online documentation design and development. He has been providing online documentation training for six years, and is a popular speaker at various conferences.
Joel Sklar is a course developer, technical trainer, and author specializing in HTML, XML, and web technologies. He is the author of three web technology books: Principles of Web Design, Designing Web Pages with Cascading Style Sheets, and Designing Web Sites. Joel also teaches graduate-level instructional design and web technology courses at Northeastern University, as well as XML courses.
Neman Syed delivers training and has written manuals for Visio, Crystal Reports, the Microsoft Office suite of applications, VBA, and more. Actively involved in the development of Visio diagramming solutions, Neman is a dynamic and entertaining speaker.
Brian Sullivan has more than a decade in print design, and 7 years in web design. As the senior designer at web design by web designers Web Design firm, Brian has designed or led the design in well over 100 corporate web sites. He serves as both the creative and tools leader for the company. Brian teaches at industry events and for organizations such as Microsoft's Front Page Users Group, and is a former faculty member of the New England School of Photography.