Fast Track to Dreamweaver is a 3-day course that provides Web designers with the knowledge and hands on practice they need to build and manage professional Web sites. With an abundance of hands-on exercises, you will learn how to:
Use the Dreamweaver User Interface effectively
Create pages with well-structured HTML content
Create hyperlinks between and within documents
Add images and image maps to Web pages
Create page designs and templates using tables
Format page contents using Cascading Style Sheets
Create HTML forms to collect user input
Use frames to segment a browser window
Add behaviors to make content highly interactive
Test and deploy a Web site
Your Instructor, Michael Doyle

Mike Doyle, a Macromedia Certified Dreamweaver Developer and Certified Instructor, has been in the technical communications industry for almost 20 years, including 15 years as the Senior Lecturer in the UMass-Lowell Technical Communications Program.
Mike has been working with web development tools and technologies for almost 10 years. He established the web development group within PUBSNET in early 1995 (web design by web designers, www.theeditors.com). Over the past 10 years, Mike has taught a number of courses on Web tools and technologies, including

HTML, XML, Dreamweaver, FrontPage, GoLive, and others that have come and gone.
Mike recently published the book Dreamweaver MX e-Learning Toolkit: Building Web-Based Training with CourseBuilder (Wiley, March 2003). His next book, Dreamweaver PowerPack, will be released by Wiley Publishing in the Fall of 2003.
Your business problem: How to capture business data efficiently in a way that facilitates relevant re-use of that data. This one-day seminar will present Microsoft InfoPath as the solution to that problem, with many practical examples of how you can use it in your organization.
You will leave this course knowing the answers to the following questions:
What is InfoPath and what does it do?
Why should organizations or teams consider using InfoPath?
How is InfoPath the cornerstone of Microsoft's new strategy to flaunt Office as a "system"?
How is XML central to InfoPath, and to the entire Office 2003 suite of products?
How does InfoPath relate to Microsoft .NET?
What is the relationship between InfoPath and XForms?
What are some of the typical ways InfoPath can be used in the areas of Management, Sales and Development?
To save you time and money, InfoPath will help you to:
Reduce repetitious and inefficient data entry.
Collaborate more effectively with team members.
Gather information more flexibly and accurately.
Reduce training needs.
Access information previously trapped in disparate, incompatible systems.
Your goal is to gather information. How do you gather information best? You give views on the data. InfoPath, based on XML, is designed to provide unlimited views of a single source file. This course will show you how this can be achieved in your situation.
Your Instructor, Dwight Baer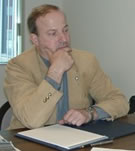 Dwight Baer is the co-author of Learn Unix in Fifteen Days and author of Building Speech Applications using VoiceXML. Dwight first delivered VoiceXML

classes and wrote VoiceXML curriculum materials for VoiceGenie Technologies Inc. in Toronto.
He has presented numerous XML seminars in the past year while also writing technology news for a bi-weekly technology newsletter. Dwight is a Microsoft Certified Systems Engineer and Trainer.
If you are an experienced Microsoft Word user and want to learn how to automate tasks in Word by using Visual Basic (integrated into Word), this course is for you! You will:
See how automating tasks can significantly increase your productivity with Word
Become familiar with the Word VBA development environment
Understand data types, variables, and constants
Write and call functions and subroutines
Using built-in functions and statements
Working with control statements
Understanding the Word object model
Based on a longer, hands-on course, this seminar will give experienced users the jump start they need to automate tasks in Word.
Your Instructor, Neman Syed

Neman Syed has been working with software and hardware since 1985. His passion for sharing knowledge is clearly evident in the classroom. Neman has managed thousands of users in a networked environment and developed database applications.
His seminars show users not just "by-the-book" procedures, but what people really need to know to stay (or get) out of trouble. Currently specializing in Visio, Crystal Reports, entry-level VBA, PalmOS handhelds, and Microsoft Office tools, his sense of humor and solid technical background help make class time an enjoyable experience.
Adobe FrameMaker has complete structured authoring tools for the authoring of content in XML. You can enjoy WYSIWYG authoring in either a familiar word processing, style-tagging mode or a fully structured environment optimized for the editing and production of valid XML.
This seminar, designed for experienced FrameMaker users, shows participants how to:
Develop an Element Definition Document (EDD) file
Develop conversion tables to convert existing files to structured documents
Based on a much longer course, this class provides participants with a jump-start to authoring structuring documents in FrameMaker.
Your Instructor, Bernard Aschwanden

A recognized publishing technologies expert, Bernard Aschwanden presents at conferences and events across Europe and North America. Bernard is an Adobe Certified Expert, a Certified Technical Trainer and the author of numerous publications on publishing and single sourcing.

As the Managing Director of Front Runner Publishing Solutions, an active member of the Society for Technical Communication, and past president of the Computer Trainers Network, Bernard has helped hundreds of companies implement successful publishing solutions.
XML, eXtensible Markup Language, is a set of rules that let you create custom tags and ensure consistent coding for web applications, including documentation. XML is more powerful than HTML but less complex than its parent technology, SGML. With this mix of extensibility, power, and (relative) simplicity, XML is taking the web world by storm.
This seminar is aimed at technical communicators who need to be familiar with basic XML concepts but who do not plan to work at the code level. The seminar presents XML's concepts, describes types of validation, introduces DTDs and schemas, and describes how XML may affect technical documentation.
Familiarity with HTML and Cascading Style Sheets is helpful but not required.
Your Instructor, Neil Perlin

Neil Perlin, owner and principal consultant of Hyper/Word Services, entered technical writing in 1979, began creating online documentation in 1985, and is now an internationally recognized expert in Windows Help and online documentation design and development.

He has been providing online documentation training for 13 years, is a popular speaker at various computer user groups and conferences, and is the organizer of the "Beyond the Bleeding Edge" stem at the STC annual conference.