Our goal at Cambridgeport Bank is to make your banking experience as pleasant and easy as possible. We offer many services to meet your financial needs and busy lifestyle. In addition to our ten Branch Locations, we offer service 24 hours a day via the Cambridgeport Bank Visa Check Card or ATM Card, automated Telephone Banking and Internet Banking.

Whether you're at home, on the road or at your office, you are always connected to Cambridgeport Bank where we work hard to make banking a convenient and enjoyable experience.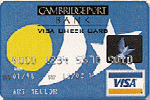 Visa Check Card
With today's busy lifestyles, you need access to your funds anywhere, anytime. That's why Cambridgeport Bank offers the Visa Check Card. The Cambridgeport Bank Visa Check Card allows you access to your funds whether you are shopping at the mall or stopping by the local ATM machine. With the Visa Check Card Cambridgeport is there 24 hours a day.

GET CASH at over 300,000 ATM locations worldwide, wherever the NYCE®, PLUS® or Sum® logos are displayed.

MAKE PURCHASES at over 12 million locations worldwide. Our Visa Check Card is accepted wherever you see the VISA symbol.

EASY BOOKEEPING. Since the Visa Check Card is not a credit card, there is no monthly bill to pay. Purchases made with the card are automatically deducted from your Cambridgeport checking account.

FREE ALLIANCE. Cambridgeport Bank is a member of the Surcharge-Free ATM Alliance (SUM). We DO NOT impose surcharges on customers of SUM member institutions who use our ATM machines, and as a Cambridgeport customer you have access to over 2000 surcharge-free ATM's.


Telephone Banking

Automated Telephone Banking

Cambridgeport Bank offers a great service that lets you receive account information, transfer funds between your Cambridgeport deposit accounts,* obtain loan and deposit rates quickly and easily, and even request product information and application documents via our fax-back feature. Our Telephone Banking service is available any day of the week anytime of the day or night. We invite you to try this convenient way to manage your money.

It's Free…There are no fees for using our Phone Funds Transfer service.
It's Safe…For your security, the system provides you with a security code. You can change your code whenever you want. You can even assign a different code to each of your accounts.
It's Easy…Simply call our 24 Hour Automated Account Line at 1-800-401-2626.
*To use the funds transfer feature, you must complete an authorization form.

Our Telephone Banking Center has associates available 6 days a week to help you with your banking needs. In addition to providing your account information, our associates will also assist you with all your lending needs . Whether you are simply looking to open a deposit account or applying for an Express Mortgage, our associates are there to help.

Service associates are available to assist callers:

Mon - Fri 8:00-6:00
Saturday 9:00-3:00

To apply for loan call (800) 731-4900
To open a new deposit account or for information on an existing deposit or loan account, call (800) 401-2626.

Cambridgeport Bank offers the total solution for your banking needs. When your time is tight and you can't get to your local branch, simply put your non-cash deposit in the Cambridgeport Bank postage paid self-addressed envelope and our Bank by Mail Center will process your request and mail you back a receipt with another Bank by Mail envelope. Our Bank by Mail Center also accepts and processes loan and deposit account applications and any other written correspondence.

For Bank by Mail envelopes and applications, send your request to:

Cambridgeport Bank
Attn: Bank By Mail
P.O. Box 35800
Brighton, MA 02135-9808

Wherever you have access to the World Wide Web, you have access to the Cambridgeport Connection. The Cambridgeport Connection allows you access to your deposit account information 24 hours a day, 7 days a week. Not only can you see all your account information, such as cleared transactions, ATM activity and checks, but you can pay bills from your checking account as well.

The Cambridgeport Connection allows you to perform many of the traditional banking functions you might do on a daily basis in the comfort of your home or office, so apply today.

About Us I Internet Banking I Personal Banking I Business Banking I Locations I Employment | Map | Map | Map I Contact Us