Satellite Programming
Superior Programming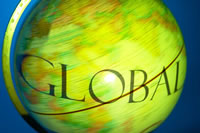 Without question, satellite TV offers the consumer the widest variety of programming choices—far more than any other home entertainment delivery system, including digital cable. Currently, C-Band satellite TV systems offer viewers a selection of approximately 200 channels, while most of DBS systems, DIRECTV, Dish Network, VOOM and GlobeCast World TV, offer well over 200 channels.
Satellite TV offers the viewer a vast array of programming choices. While cable TV viewers are restricted to a few tiers of limited programming options, satellite viewers have a wide range of channels and bundled services to choose from. These range from economical packages featuring a modest selection of popular programs to elaborate packages offering a huge selection of every conceivable variety of programming, including local channels, general entertainment, premium movies, sports, news, shopping channels, children and family programming, religious channels, ethnic programming, music channels, and special interest channels.
The range and variety of sports programming is often cited by dish owners as one of the major reasons for owning a satellite TV system. With the combination of several satellite-delivered regional sports networks, sports-laden super stations, special sports networks and more, satellite dish owners have access to far more sporting events than any other TV viewer. Satellite TV also gives a sports fan the ability to follow a local team from anywhere in the country. In addition to the popular sports networks, there are also a number of sports subscription packages available, not currently available to cable subscribers, in which viewers pay one season price and receive nearly 200 NFL games.
Pay per View
DBS subscribers can take advantage of a growing number of Pay-Per-View (PPV) channels where they can pay a minimal fee to watch live sporting events, concerts, and other special events broadcast from around the world. The viewer can instantaneously access these PPV programs by making a simple phone call or pushing a button on their receiver's remote control.
Foreign Language & International Channels
Satellite TV provides viewers with an unparalleled offering of ethnic programming, foreign-language networks, and channels from around the world.
Audio Programming
In addition to the diversity of viewing choices, satellite broadcasting offers a wide choice of audio-only channels. The listener can choose from more than 30 available channels of every genre of music, including jazz, rock, country, classical, international, and more, as well as talk radio and news programs. These channels are broadcast in CD-quality digital stereo sound. DIRECTV, Dish Network, and C-Band offer audio programming as part of their programming packages.
In addition to the variety of programming unavailable anywhere else, satellite TV also offers the viewer many advantages that no other broadcast medium can provide. Unique satellite TV features include.
Distant Network Broadcast
For those viewers who do not receive a viewable over-the-air network signal, satellite television can, in some circumstances, provide them with distant network broadcasts of ABC, CBS, FOX, NBC and the national feed of PBS via satellite.
Multiplexing
Several premium movie channels, including HBO, Showtime, and Starz Encore, offer additional "multiplex" feeds that provide subscribers with a number of channels to choose from.
Time Shifting
Satellite TV can offer consumers the ability to watch a particular program at a choice of viewing times, by providing access to satellite feeds in different time zones. Unlike cable TV, where a viewer is restricted to the viewing time provided by the local cable feed, a DBS owner can choose to watch a program at a different time by tuning to the feed for a different time zone.