Al-beau Corp is a group of one hundred local investors who are being offered the purchase of the progeny [foal] which is the direct result of the mating of Albert The Great and Beauett.
Albert The Great is a world-class racehorse owned by Tracy Farmer, a Kentucky native, who also owns the 150-acre Shadow Lawn Farm near Midway, Kentucky. Albert, who won multiple graded stakes races, including The Jockey Club Gold Cup, is beginning his stud career in 2002 at the world-renowned Three Chimneys farm in Midway, Kentucky.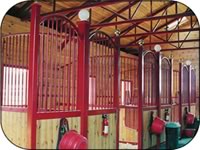 Beauett is a local Thoroughbred, owned by Leo Chasse of Dracut, MA, who competed primarily in New England area claiming races. She quickly rose from the five thousand dollar level to compete in sixteen thousand dollar claiming races. In this climb through the claiming ranks, she displayed her strongest attribute: the heart and determination that are the most sought-after qualities in a Thoroughbred.
Mr. Farmer stated nationally that he would be breeding a very few select mares to Albert. Mr. Chasse applied to send Beauett to Albert, and the management of Three Chimneys, acting for Mr. Farmer, eagerly selected her for Albert's first breeding season.

Business Consulting, HR and Training, Transport and Logistics
Many of the online directories focus towards one market segment or audience profile. Here, we target the "best in class" for each of the served markets by industry leaders in their respective fields. Find a category that you feel is most relevant to the content of your site, or that attracts a customer demographic you wish to reach. Provide a title and URL and submit to this directory.
Corporate Business
Business web directory and online Internet marketing center, offering powerful promotion opportunities to your business and website. Maximize traffic to your website by submitting to the directory. Categorized in 7 main groups, including Consulting, Manufacturing, Internet Services, Professionals, Health, Pharmaceutical, Software & Telecommunications and Transportation.
Business Consulting
HR & Training
Construction
OPEN
Transport & Logistics
Business Consulting
HR & Training
Construction
Transport & Logistics
business directory | corporate, financial & education directory | real estate & search engine directory | manufacturing directory | software, non-profit & retailers directory | company directory
In today's computer-driven world of Thoroughbred matching, owners and breeders use complex formulas to assess the potential results of any mating. By every reckoning, Albert and Beauett have an unusually high probability of creating a superior Thoroughbred, one with the ability to run long distances at high speeed, and the stamina to carry through.
Instead of going national, Mr. Chasse would first like to offer the 100 shares in the foal of the 2002 breeding of Albert and Beauett to people of the Merrimack Valley (Dracut, Lowell, Tewksbury, Chelmsford, Tyngsboro, Pelham, Billerica, and environs). This would allow the investors' families and friends to be able to visit Mr. Chasse's small Dracut farm and see firsthand how their "investment" grows under his care.
This will also allow for the election of a local board of directors, who will always make the investors' interest their number one priority. In addition, a local board means that local investors will have easy access to the board, assuring that their input will be heard.
Additionally, a group of local investors should have a positive impact on Thoroughbred racing in the New England area. Even if the foal goes on to race at the national or even international level, its New England roots and its New England connections will draw positive attention to the area and the local industry.
Keeping the maximum number of investors to 100 will allow for larger returns per investor, as well as allowing for good controls. It also allows the investors the opportunity for social interaction within the group, and makes it easy to arrange group events such as educational meetings with experts in all areas of Thoroughbred ownership.
If all goes well the foal will be born in January of 2003.... more.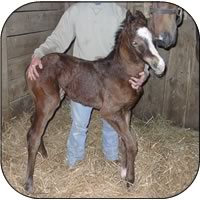 The foal pictured is sired by A P Jet, the number # 1 second crop sire in N Y in 2001. Her mother is Ygerne, owned by Leo Chasse of Dracut, MA.. The baby's name is Damians Jet, 45 min old, in picture, born 3/22/02.