Article Last Updated:
Saturday, January 19, 2002 - 10:46:53 PM MST
Little piece of Kentucky in Dracut, Mass.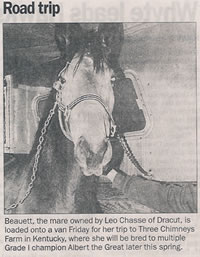 By DENNIS WHITTON
Sun Staff
DRACUT -- Leo Chasse came late to the horse game, but he's determined to make up for lost time.
With just a year and a half of Thoroughbred ownership under his belt, Chasse, 53, has ventured headlong into the breeding end of the business.
He already owns yearlings sired by highly-rated national stallions Rubiano and Chimes Band, but now he's swinging for a home run.
Later this month, Chasse's eight-year-old mare, Beauett, will be shipped from his small Dracut stable to the world-renowned Three Chimneys Farm in Midway, Ky. There, she will be one of a select few mares bred to Albert the Great, the multiple Grade I winner who was retired last fall and will be standing for his first season at stud.
Three Chimneys executives are carefully screening applicants to be bred to Albert the Great, who displayed a rare combination of speed and stamina in his brilliant racing career. They eagerly accepted Beauett, a daughter of Beau Genius and Road to Shiloh, who spent her entire 56-race career kicking around minor league circuits in New England and elsewhere.
In the complicated, computer-driven chemistry of pedigree matching, the two should make a perfect couple, even though one was third in the Breeders' Cup Classic and the other was third in a Rockingham Park claiming race in their final outings.
The stud fee of $10,000 (with a guaranteed live foal) seems to be a bargain. Point Given, also standing his first season at Three Chimneys, is commanding a stud fee of $125,000.
Chasse, who's lived in Dracut for 25 years, has dabbled in pedigree matching on his computer and sees great things for the Albert-Beauett matchup.
And Edwin Anthony, pedigree consultant to Three Chimneys Farm and author of "The 21st Century Pedigree Handbook," agrees.
"Although Beauett was a claiming horse, both she and her dam, Road to Shiloh, won a number of races," said Anthony. "In addition, this just so happens to be an extraordinary match on paper, with inbreeding to some of the most influential Thoroughbred sires of the 20th Century.
"The Albert the Great-Beauett combination results in inbreeding to Northern Dancer, Raise a Native, Buckpasser (and others). Inbreeding to these sires has already been extremely successful in the pedigrees of stakes winners, so I suppose we're all hoping that some magic will take place with this mating."
Albert the Great, a son of Kentucky Derby winner Go for Gin trained by Nick Zito, won the Jockey Club Gold Cup and the Suburban, Brooklyn and Widener Handicaps, among many other stakes races.
Chasse said Beauett (pronounced Bow-ett) will come back to his small farm on the Dracut-Lowell line, with the foal due in the spring of 2003, if all goes well.
He is thinking about selling shares in the youngster, with the thought that local people might like to own a piece of what could be a world-class Thoroughbred (you never know).
Chasse figures it might be a way to increase interest in the Sport of Kings, whose glory days of front-page headlines have gone the way of Seabiscuit.
In the meantime, Chasse and his fiancee, Sam Christman, are operating a beautiful little private stable in the unlikeliest of places -- on Pemberton Street in Dracut, hard by the Centralville line.
They cleared the land in the summer of 2000 and the barn is nearly completed, with four 13-by-13 stalls and two larger foaling stalls under the high ceiling. The detail work is right out of a Kentucky Bluegrass brochure. The occupants right now are a combination of broodmares and racing Thoroughbreds being given a rest.
At first, says Chasse, the neighbors were skeptical about the woods behind his house being replaced by grazing land, but the farm is clean and well-run and the property shows the great pride Chasse and Christman take in it. Now, the neighbors bring their kids over to see the horses.
Chasse, the owner of Mill Steel Co. in Manchester, N.H., was around horses as a kid, but caught the bug big time in 2000.
He did some research and found a trainer, Karl Grusmark, whose style and love for horses fit his own. Then he set about claiming some stock, including Beauett (whom he claimed for $5,000, lost for $12,500 and claimed back for $10,000).
"I'm not in it for the money," said Chasse, sitting in the kitchen of his expanded Cape overlooking an inground pool and, beyond, horses standing in the snow-covered field with the stable basset hound, Bud.
"If the young generation could just go to the track and see the beauty of it -- not even to bet, just to look at the horses as athletes -- they'd start going."
Chasse, Christman and her daughter Shaina sometimes go to the track just to take pictures, he says. "They really are beautiful animals."
Whether the offspring of Albert the Great and Beauett races on the New England circuit or in the big leagues of New York, Kentucky or Florida, "will be up to the horse to tell us," says Chasse.
If the computer model is on target (the foal will have a Dosage Index of 1.22 and a Center of Distribution of 0.10, an almost unheard-of figure), it's not too early to make reservations for the 2006 Kentucky Derby.
While he talks about trying to "bring some class" to New England racing. ("Why can't we compete with New York like we do in baseball and football?"), Chasse knows the realities of the declining New England racing scene.
He owns a handful or horses and has won nearly 30 races in his year and a half in the business. "I can thank Karl Grusmark for that," he says of his trainer.
If all goes well, the product of the upcoming Albert the Great-Beauett partnership may carry Chasse and Grusmark -- not to mention local horse-racing interest -- to greener pastures in the years ahead.