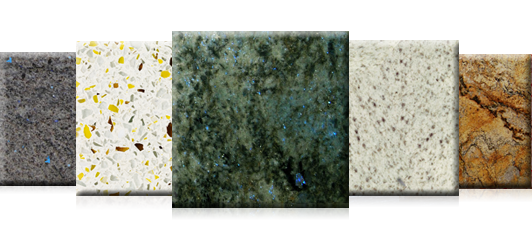 Frequently Asked Questions
CLICK EACH QUESTION FOR THE ANSWER.
What is the difference between an "undermount" sink and a "drop-in" sink? Is there a cost difference for the type of cutout required?

a) Undermount Sink - Fasteners underneath the countertop hold an "undermount" sink so that a polished edge of granite is exposed above the sink.
b) Drop In Sink - A "drop-in" sink has a lip that folds over the countertop and rests on top of the cutout.
c) Price Differences - An undermount sink cutout requires more polishing and installation labor than a drop-in sink cutout and therefore is a more expensive option. Different edges are also available.

Does Granite stain?

Typically, no. Granite is porous like all stone, so if liquid is left for an extended period of time it is possible. The sealing of granite should slow this process. However, any liquid that penetrates the stone's pores can then also be extracted from the stone.

Do I need to make an appointment with you before going to your showroom?

If you visit our showroom during the normal showroom hours, no. However, if you are unable to make it to our showroom during these hours, we are always willing to set up a time that would work for you to visit our showroom.

Why should we approve our natural stone slabs before you fabricate them?

You make an important investment in your natural stone countertops. We want you to be completely satisfied with your choice of material before we fabricate and install your new countertops. Every slab of natural stone has unique variations in color, shading, and texture, in addition to natural pits, dry veins, and fissures. Due to the nature of stone fabrication, we cannot guarantee that a specific slab, or part of a slab, from your selected material will be used or avoided in a particular area of your installation. The dimensions of natural stone slabs vary. The layout of your countertop area will determine the number of seams you will have and their locations. All seams will be visible to the eye and to the touch. Therefore, it is important to us that you see and approve the exact slab that we will be using to fabricate your countertop.

How often do I need to seal my granite countertops?

The answer depends on the type of granite and on usage. Even though some granites may require sealing once a year, the majority do not require sealing past the original sealing. In any case, sealing is a very simple process that takes just a few minutes. Merrimack Stone Industries seals the granite at the factory after it is polished, and once again after we install your new countertops.

How do I clean my granite countertops?

Warm water and a light colored dish soap will work well. Be sure to avoid using any abrasive cleaners that will break down your seal quicker.

I live far away, does the special apply to me?

It is applicable, but transporting the granite further than 1 1/2 hours away from our factory will yield an extra charge: $100 per driven hour each way.

What does the special include (a) and what is not included (b)?

a) The special includes: Granite, template, installation, eased edge or 1/4" radius, installation of sink (one of ours or your own) drilling of faucet holes, and final sealing of granite surface.
b) The special does not include: Plumbing, electrical, removal and disposal of original countertop, cut out for undermount sink or cooktops. An additional $250.00 for undermount sink cut out and $100.00 for drop in sink or cooktop cut out. We will remove original countertop per request for $350.00.

What is the thickness of the granite?

Our granite is 1 ¼" thick, the standard for kitchen countertops.

What about a warranty?

Granite does not have a warranty. It is a natural element over a million years old and has withstood extreme heat and pressure. If your granite countertop happens to chip due to an accident it can be refilled using an epoxy and granite chips.

What is the difference between Granite, Silestone, Curava, and Zodiaq?

Silestone, Curava, and Zodiaq are man-made materials created by pressing Quartz, resin, and pigments together. While Quartz is a natural material, resins and pigments are chemicals that resist only limited temperatures and exposure to outdoor conditions. Granite is a natural material that has survived extreme thermal variations and high pressure for millions of years. This makes it a great material for kitchen countertops. The price of Granite is also more competitive than the man-made products.

Can you give me an estimate if I tell you the dimensions?

In order for us to give you an estimate we would need a sample sketch or plan of the kitchen, your address, and the granite you have selected. This will give us a better idea of the complexity or simplicity of your kitchen. You may fax or email your sketch/plan to (603) 879-9116 or to mario@merrimackstone.com. We will give you an estimate free of charge on the same day. If you like our estimate we strongly suggest you visit our indoor showroom full of slabs to choose from.

Click here to print graph paper.

Will you come to my home to take the measurements?

Sorry, we will only come to the project location when the estimate is accepted.

What is your turnaround time?

10-15 days from order placement

I would like to do my bathroom countertop too, will you do that?

For our kitchen countertop clients you may select a piece from our granite remnants at a very convenient price.