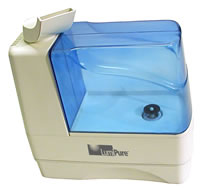 Humidification is a critical component to maintain a healthy environment. The recommended indoor room humidity level is between 30-50%. At this level, humidifiers may help to relieve cold and flu symptoms, improve dry skin and even protect wood furniture from cracking or splitting.
LumiPure offers the most advanced humidification systems you can buy. Our portable ultrasonic units are ultra-powerful and compact enough to bring anywhere while our high-output cool-mist humidifiers are perfect for home or office.
We also offer humidifiers that have an extra level of protection with our patented, ultraviolet, germicidal light. This UV-C light helps inhibit the growth of bacteria giving you the peace of mind that only comes with LumiPure.

Air Purifiers | Humidifiers | Deodorizers & Sanitzers | Cleaning Products
home | contact