If you're not ready for the monthly lesson, then we can create a single lesson for you. This lesson will include anything you would like to work on, a song, chords, theory, lead and soloing, tech, or if you're a beginner, we can set your lesson up for you, and remember you will have full E-mail and phone support for a month. Includes 1-2 weeks of customized guitar study tailored to your specific goals and needs. Great if you're getting bored with books and courses, or just need a little work.


---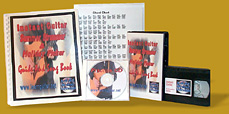 This course is as if you enrolled for a month with a private instructor. Includes 4-6 weeks of customized guitar study tailored to your specific goals and your own needs. You'll work with us to develop a program and routine to get you playing the way you want to fast. Every lesson is made to order, after you fill out the student info and order form, one of our instructors will evaluate your info and create a lesson packet and book, and bind it on the spot. We will also include any other type of instruction with your custom lesson like, tapes, c.d.'s, pictures, video and so on. Whatever we feel you will need to complete your lesson trouble free. You will also have full toll free phone and email support for as long as you need.


---



After we complete your custom guitar lesson, one of our instructors can put your lesson on CD. This means when you receive your lesson, you'll be able to put the CD in and listen to all of the sections that has been created for you. This is recorded live by us or through our computer software. This will depend on how clear the example will need to be, plus we slow the examples down to the level we feel you should start at, then bring them up to speed to where you should be after the month.


---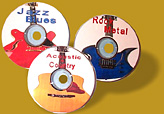 Each CD contains drum tracks that start out slow and speed up as your playing ability improves. It's like having a live band available to practice with you 24 hours a day! Available styles are: Acoustic and Country; Classic and Hard Rock and Metal; Blues and Jazz.
| | |
| --- | --- |
| Practice CDs (Rock) | |
| Practice CDs (Country) | |
| Practice CDs (jazz) | |
---



Use your checklist to make sure you are using correct technique, position, routine, strumming, etc. Crosscheck it with your journal to make sure there's nothing you've missed. The journal includes blank tab, chord, and staff paper where you can record your ideas and questions.