Your Holiday Station program comes loaded with free supplies.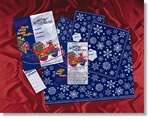 Promotional Fliers. These colorful promotional fliers are sent home 2 weeks before your shop date. You make a master with your details (Dates etc.) and copy that information on the back of the fliers we provide. We provide one flier per student enrolled (plus 10% extra).
Budget Envelopes. These envelopes provide a simple way to transport money into the school. They also have a budget grid which parents can use to guide children (and your volunteers) as to who to buy for and where to spend the money. We provide one envelope per student enrolled (plus 10% extra).
Promotional Posters. You will receive 6 colorful coordinated advertising posters that are used to promote your event within the school. Put these up 30 days prior to your event.
Table Covers. Holiday Station provides 8 decorative white plastic table covers for your tables. Most groups also write selling prices directly on these covers so that children can see them easily.
Gift bags. Our gift bags come in three different sizes. Each bag has decorative printing and a "To, From" block where the child may write the gift recipients name. The bags are paper, not plastic so they are easy to write on and have a gift wrap "feel".