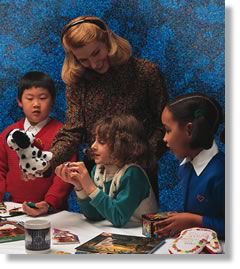 Your children can experience the joy of giving during the holidays with Holiday Station.

Holiday Station is a store, set up in your school and run by your parent volunteers. This valuable learning experience allows children to "secretly" shop for gifts for their families during the Holiday season. Action Events provides all of the gifts for your program on a risk-free consignment basis. You pay only for the items you use.

Students love it…
For many children, this may be the first time they experience the thrill of picking out their own gifts for family and friends. They love shopping in their own school without Mom or Dad looking over their shoulders. The most fun is having "secret" gifts that they have picked out on their own for their family during the Holidays.

Parents love it…
Holiday Station saves parents money. Gifts at Holiday Station cost from .25 to $8. Most items are in the $3 range and there are plenty of items $1 and less. There's not a mall in America where children will find so much variety for so little money.
Holiday Station saves them time. With the pressures of the Holidays parents appreciate not having to take the kids out on those frantic shopping trips picking out gifts for the family.
Holiday Station is safe. Children shop in the safety of their own school under the direction of parent volunteers.
Holiday Station is educational. Children at every grade level learn valuable lessons from simple math to budgeting and consumer decisions
Its as easy as 1-2-3
1. Signup and recruit volunteers
2. Kids Shop and take home gift selections
3. Return unused gift merchandise
Our Gift line
The team at Action Events, Holiday Station has over 25 years of experience in assembling a line of gifts that the children are excited about and that Parents will feel are good values for the dollars spent.
Your consignment Gift package will include over 120 different items with a quantity of each that matches your projected sales. You'll find gift line will have something for everyone on a child's list: Mom, Dad, brothers, sisters, grandparents and special friends. There is no order taking, all items are taken as they are purchased in the shop.
Best of all, Holiday Station is risk-free and full consignment. You pay only for the items you don't return. There are no freight charges for your initial delivery or for your return shipping.
home | gift line | how it works | free supplies | questions | signup bonus | request info
Resources 1 | Resources 2 | Resources 3 | Resources 4 | Resources 5 | Web Design Directory