Series 100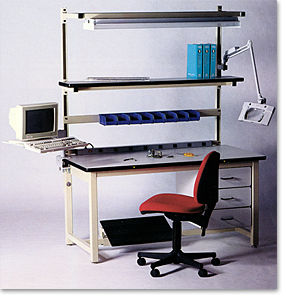 The workhorse of our product line, the Series 100 is strong, steady and versatile. Our standard Series 100 is constructed of 16-gauge cold rolled steel and features a full perimeter frame to insure complete worksurface support. The worksurface itself is constructed from industrial grade particle board and is fully sealed to minimize warpage. Laminate colors are available in both a standard and ESD grade. This fully welded system is engineered with integrated leg support crossmembers to maximize strength and rigidity under load. The leg section is simple yet functional and includes micro-adjusting levelers to provide full adjustability of work height on uneven floors.

CUSTOM CABINETS & FIXTURES
In addition to laminating, shaping, cutting, and edging panels, we are also a job shop specializing in the manufacturing of products to customer specifications. Our unique metal and flat panel capabilities allow us to produce hybrid products which consist of both metal and laminate. These combined operations are used to produce items such as store fixtures, custom cabinets, computer furniture, desks, worksurfaces, etc. Our products can be found in many major retail stores, banks, and offices throughout the United States.
Working from your designs and blueprints, our Engineering department can help your company realize it's potential. Whether it's one custom piece or a line of high production items, we can meet your company's needs.