Coming Soon

Business Consulting, HR and Training, Transport and Logistics
Many of the online directories focus towards one market segment or audience profile. Here, we target the "best in class" for each of the served markets by industry leaders in their respective fields. Find a category that you feel is most relevant to the content of your site, or that attracts a customer demographic you wish to reach. Provide a title and URL and submit to this directory.
Corporate Business
Business web directory and online Internet marketing center, offering powerful promotion opportunities to your business and website. Maximize traffic to your website by submitting to the directory. Categorized in 7 main groups, including Consulting, Manufacturing, Internet Services, Professionals, Health, Pharmaceutical, Software & Telecommunications and Transportation.
Business Consulting
HR & Training
Construction
OPEN
Transport & Logistics
Business Consulting
HR & Training
Construction
Transport & Logistics
business directory | corporate, financial & education directory | real estate & search engine directory | manufacturing directory | software, non-profit & retailers directory | company directory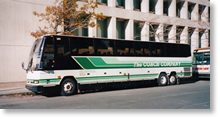 In response to numerous requests, The Coach Company will be starting a daily run to Foxwoods Casino in Late February, 2001.
One coach will start at the Park & Ride lot in Portsmouth, NH at 7:40AM, then the Newburyport Park & Ride lot at 8:00AM.
The second run will begin in Manchester, NH at the Transportation Terminal at 7:15AM, Windham NH Park & Ride lot at 7:35AM, and Denny's Restaurant Route 28 Salem, NH at 7:55AM.
Passengers on these coaches will recieve a $30.00 bonus package from the casino upon arrival. Both coaches will depart from the casino at approximately 5:ooPM to return to the scheduled stops.
Watch this site for updated information, starting date and fares.
Dates & times subject to change without notice.