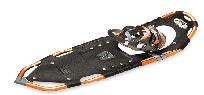 Atlas 1030 Snowshoe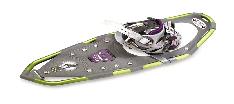 Atlas 1022 & 1025 Electra
The 10 Best Reasons to Love Snowshoeing
Snowshoeing is less expensive than traditional snow sports such as Alpine skiing and snowboarding. An average pair of snowshoes is less than 20% of the costs of alpine skiing equipment. (Snowsports Industries of America).
It's a highly effective fitness workout. Snowshoeing can burn 500 to 1,000 calories per hour, depending upon terrain, weight and speed. (Physiological Responses to Recreational Snowshoeing conducted at the University of Wisconsin—LaCrosse).
It's easy and fun to learn. If you can walk, you can snowshoe so you can start having fun immediately.
Snowshoeing can be a rich, rewarding social activity that combines fitness, the outdoors, friends And family time.
Snowshoeing does not pound or jar joints or injuries, making it a prudent choice for recuperation or a non-impact strength-building activity.
When donning a pair of snowshoes, one can enjoy the hidden beauty of the winter landscape, otherwise inaccessible.
Modern snowshoe equipment has made the sport safe, simple and user friendly. Today's snowshoes are lightweight and comfortable with cleats/crampons for traction on the bottom for added stability.
It's free. No lift tickets are required for access to many of the best places to snowshoe. With even a small amount of snow, you can rediscover your own backyard, set out on your local trail system, or experience the beauty of national parks and mountain resorts.
Everyone loves it. From kids to grandparents, snowshoeing is rising in popularity, growing almost 93% since 1998. (Outdoor Industry of America).
Keep moving, even in the winter. Snowshoeing is the perfect winter sport for the non-winter sport enthusiast. For hibernating couch potatoes, engaging in a new sport during the winter months is a perfect way to combat off-season sedentary habits.