Available Style...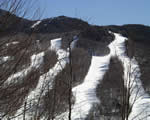 We have K2 Four R Rental Skis available in all sizes. We also offer K2 Omni Junior skis for the younger set. The Omni Junior is ideal for those younger riders who benefit from a moderate sidecut and wide footprint for added stability on the slopes.
Watch this page for more information on K2 Snowboards!
New for 2005/2006, we have 4 types of Demo Skis:


The Apache Recon is a new high performance adventure ski that excels in all terrain and snow conditions. Due to the wider, 78mm waist and a versatile 16mm sidecut, the Recon adapts seamlessly to any environment.


The Apache Crossfire is one of the most adaptable skis available. The 68mm waist and 18mm sidecut indicates that the Crossfire enjoys the horsepower and finesse to tackle any mountain, anytime.


T:NINE BURNIN' LUV High performance for women who like to "burn it up" all across the mountain.


T: NINE ONE LUV One Luv will navigate through all types of terrain and make you feel at one with the snow and the mountain.