Hillsboro, OR's Cost Effective Same Day Messenger and Courier Service
Professional, Same Day Time Critical Deliveries for Greater Portland and Beyond Since 1983.
Service Area
Our core service market includes Portland and the surrounding area north to Vancouver, WA; east to Gresham, west to Forest Grove and Hillsboro; and south to Eugene. We also make longer haul same day deliveries to all points in OR, and east into Idaho including Boise.
Services
We have a full fleet of late model vehicles ranging from sub compacts to box trucks with fully uniformed background checked drivers to deliver any sized items for the following service levels:
Non-Stop:
Our closest available driver is immediately dispatched to your pick up address and proceeds directly to your delivery destination without interruption or additional stops.
Standard:
Your items for delivery are picked up and delivered within 2 hours or less
Economy:
Your items for delivery are picked up and delivered within 4 hours or less. The cutoff time for Economy Service is 1pm.
Medical:
Specialized STAT and Routed Medical Courier services using drivers trained in the handling of medical specimens following 49 CFR 171-180 guidelines with ambient, chilled and frozen transport conditions. Bar code tracking and chain of custody also available.
Customized Services
Scheduled pickups to meet your time critical needs
Flexible, scalable routing that fits your daily needs; optimized to reduce route time.
Dedicated drivers and Fleet replacement for short and long term needs.
Routed trucking for multiple stops; Same Day Rush Trucking also available
* Call for a no obligation review of a customized program to meet your exact needs:
888-888-0004 or tell us more at
pdx@uscds.com
For more details on available services,
click here
Non-Stop Direct:
Driver is immediately dispatched for pick up and proceeds directly without additional stops to your delivery point.
Rush:
Pick up and delivery within 2 hours or less within 495.
Economy:
Pickup and delivery within 4 hours for orders placed by 1pm.
Same Day Rush Trucking:
Hot shots as well as scheduled and routed deliveries.
Scheduled and Routed:
Dedicated driver makes all stops for your daily scheduled pick ups and routes.
Hillsboro, OR

The largest and most trusted same day messenger and courier service in Oregon
Thank you for visiting Hillsboro, OR US Courier and Delivery Service online.
From a document to a truckload, when it comes to Same Day Service throughout Oregon and beyond, US Courier and Delivery Service will handle your shipment flawlessly. Please call Hillsboro, OR's premier courier service for an immediate response to your shipping needs.
Hillsboro, OR US Courier and Delivery Service provides these delivery services over the largest "local" area you'll find. Our regular territory for Direct, Rush, and Regular Services stretches over ten metropolitan areas, from Hood River to Portland, and west to the Pacific Ocean.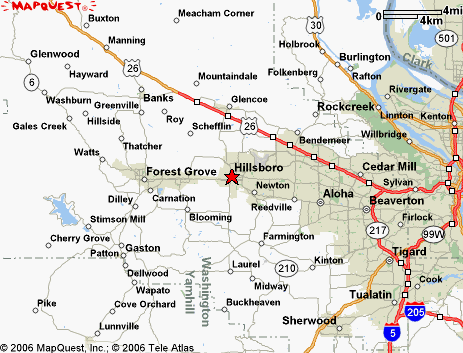 Hillsboro, OR Details:
Hillsboro, Oregon has old fashioned charm, yet is only 20 minutes away from the big city amenities of Portland. It offers a variety of parks, fairs, historical places and rural beauty that can appeal to any visitor's taste. Hillsboro is the government seat of Washington County, a fast growing area of Oregon. But, people there still share a smile and extend a friendly welcome to visitors.
Hillsboro's downtown area is also a unique blend of old and new buildings. The historic Washington County Courthouse, with its stately sequoia trees, is across the street from the modern Civic Center, which was designed to be a people friendly gathering area. The Civic Center, which is part of Hillsboro's vision for its community's future, incorporates environmentally friendly construction and design with many beautiful artistic features, both inside and outside of the facility. The Hillsboro Saturday Farmers' Market is held May through October on the streets around the Courthouse and Civic Center.
Hillsboro is one of Oregon's centers of high technology. Most of Hillsboro's commercial industry is done in parklike industrial campus settings designed to blend in with the countryside. Companies such as Intel, Planar Systems, FEI and others offer opportunities for career and community growth. The local airport provides services to large companies that operate their own commercial air fleets.
Hillsboro is located in the middle of the warm, temperate Tualatin Valley, equidistant between the Cascade Range and the Pacific Ocean. Residents here have access to wind sailing in the Columbia River Gorge, year-round skiing on Mt. Hood, and the spectacular Oregon beaches, all only about an hour away.
Being close to Portland means that Hillsboro residents can enjoy all of the urban fun, such as the Rose Festival, the Mt. Hood Jazz Festival, the Portland Trailblazers in the Rose Garden Arena, and many other attractions. Trimet's MAX light rail system makes traveling to and from Portland easy. Board the train in downtown Hillsboro, and the line goes through Beaverton to downtown Portland. At the downtown Portland bus mall, buses, streetcars, trollies and the MAX light rail are available for destinations throughout the metropolitan area, including the Portland International Airport and Gresham.
There are several country wineries to visit in the Hillsboro area. Oak Knoll Winery, located on SW Burkhalter Road, specializes in Pinot noir, Pinot gris, and Niagara wines, as well as Frambosia, a raspberry dessert wine. Wine tasting and a picnic area are available for visitors. For more information, contact Oak Knoll Winery, (503) 648-8198.
The historic Old Scotch Church, organized in 1873 by twelve Scottish settlers from Aberdeenshire, Scotland, is one of the oldest continuously used churches in Oregon. The eight sided steeple is architecturally unique, and the church is one of the most photographed in Oregon. Many of Oregon's pioneers, including mountain man Joe Meek, have been buried in the church cemetery. To arrange a tour, contact (503) 648-9573.
Hillsboro, where yesterday and tomorrow, pioneer churches and high-tech industry, small town charm and busy shopping centers all come together, is a great place to visit and live. Come and see for yourself!
Oregon Same Day Delivery Locations
Aloha, OR
Lake Oswego, OR
Beaverton, OR
Portland, OR
Clakamas, OR
Tigard, OR
Gresham, OR
Vancouver, OR
Hillsboro, OR
Wilsonville, OR
All Locations
Portland, OR Contact Info
Manager:
Terry Hastings
Account Exective:
Joni Powell
12009 NE Marx St.
Portland, OR 97220
Tel:
888-888-0004
Fax:
888-877-0004
Toll Free:
888-866-0004

Delivery Services Available for Oregon

With strategically located offices in Boston and Providence, we provide three same day delivery options anywhere within Oregon:

Dedicated
Learn more

Pickup within 30 minutes or less for immediate, direct delivery.

Exclusive
Learn more

Pickup and delivery within 2 1/2 hours.

Regular
Learn more

Pickup and delivery within 4 hours.

US Courier and Delivery Service-Oregon offers other services tailored to your needs including:

Rush Same Day Trucking – Pickup within 1 to 2 hours with direct delivery.

Custom Delivery Programs – Designed to meet your needs and including residential service.

Warehousing– Product pickup and retrieval, warehousing, and distribution - we'll manage your logistics.

Airport Service – Retrievals and drop offs.

We serve all major delivery markets, including Legal, Medical, Financial, Environmental, Manufacturing and Freight Forwarding.
We have it covered from documents delivered across Portland to several pallets to Seattle.

Portland US Courier and Delivery Service can handle all your time critical delivery needs. Our Portland management team has over 50 years of combined local delivery experience and excels in designing tailored services to meet your time and price requirements.

US Courier and Delivery Service
12670 Market Street
Portland, OR 97230

Local Tel:

888-888-0004

Toll Free:

888-866-0004

Fax:

888-877-0004

Email:

Customer Quote
"Thank you very much to Travis for expediting our needs. It was truly a life and death situation for a cancer patients last wishes to get the prescription he needed within 1.5 hours."

Kerri, Tuatalin
Services Available for Portland, OR.
Our fleet includes hybrid cars and bikes making us Portland's clean air partner. Standard vehicle services include:
Direct - Picked up within 20 minutes of your call and delivered non-stop to the delivery point.

Rush - Picked up within 20 minutes of your call and delivered within 90 minutes.

Route - Picked up and delivered within 3 hours of your call.
We offer the following bike services within the downtown area; 15 minutes, 30 minutes, 1 hour and 3 hours.
Portland US Courier and Delivery Service provides non-stop service outside the metro area and we have delivered time critical shipments as far as Albuquerque, NM; Seattle, WA; Great Falls, MT, and to all cities within our great state. We also routinely make deliveries to Vancouver, Canada. Portland US Courier and Delivery Service has the expertise needed to handle the complex delivery instructions and paperwork required to process international, government, and airline deliveries.
When you call Portland US Courier and Delivery Service you will immediately be greeted by a knowledgeable customer service representative who will process your delivery request or provide you with delivery details.