Andover MA Courier Service
Professional, Same Day Time Critical Deliveries for Greater Boston and Beyond Since 1983.
Service Area
Our core service area includes Boston, the 128/95, 93, 90 and 495 corridors reaching out to Worcester, Manchester, NH; Providence and northeast Connecticut. We also provide same day non stop services throughout the Northeast to the rest of New England, New York, New Jersey and Pennsylvania.
Services
We have a full fleet of late model vehicles ranging from sub compacts to box trucks with fully uniformed background checked drivers to deliver any sized items for the following service levels:
Non-Stop:
Our closest available driver is immediately dispatched to your pick up address and proceeds directly to your delivery destination without interruption or additional stops.
Standard:
Your items for delivery are picked up and delivered within 2 hours or less
Economy:
Your items for delivery are picked up and delivered within 4 hours or less. The cutoff time for Economy Service is 1pm.
Medical:
Specialized STAT and Routed Medical Courier services using drivers trained in the handling of medical specimens following 49 CFR 171-180 guidelines with ambient, chilled and frozen transport conditions. Bar code tracking and chain of custody also available.
Customized Services
Scheduled pickups to meet your time critical needs
Flexible, scalable routing that fits your daily needs; optimized to reduce route time.
Dedicated drivers and Fleet replacement for short and long term needs.
Routed trucking for multiple stops; Same Day Rush Trucking also available
* Call for a no obligation review of a customized program to meet your exact needs:
888-888-0001 or tell us more at
bos@uscds.com
Andover Massachusetts courier service
For more details on available services,
click here
Non-Stop Direct:
Driver is immediately dispatched for pick up and proceeds directly without additional stops to your delivery point.
Rush:
Pick up and delivery within 2 hours or less within 495.
Economy:
Pickup and delivery within 4 hours for orders placed by 1pm.
Same Day Rush Trucking:
Hot shots as well as scheduled and routed deliveries.
Scheduled and Routed:
Dedicated driver makes all stops for your daily scheduled pick ups and routes.
Thank you for visiting Andover, MA US Courier and Delivery Service online.
From a document to a truckload, when it comes to Same Day Service throughout Massachusetts and beyond, US Courier and Delivery Service will handle your shipment flawlessly. Please call Andover, MA's premier courier service for an immediate response to your shipping needs.
Andover, MA US Courier and Delivery Service provides these delivery services over the largest "local" area you'll find. Our regular territory for Direct, Rush, and Regular Services stretches over twenty metropolitan areas, from Marlborough to Boston, and east to the Atlantic Ocean.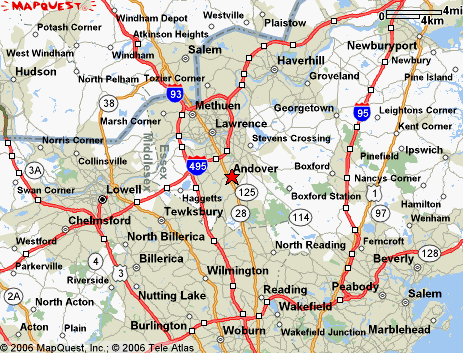 Andover, MA Details:
The town of Andover is located in Essex County in the northeastern part of Massachusetts, approximately 23 miles north of Boston. Located on the banks of the Merrimack River, Andover is bordered on the north by the cities of Lawrence and Methuen, on the east by the town of North Andover, on the south by the towns of North Reading and Wilmington, and on the west by the towns of Tewksbury and Dracut. Andover has approximately 32 square miles of land area, and 223 miles of roadways.
Andover is bisected by two major highway systems, Routes 93 and 495, and a number of secondary roadways including Routes 28, 133, 114 and 125. Public transportation is available via two commuter rail service stations from Andover to the metropolitan Boston area provided by the Massachusetts Bay Transportation Authority, and a regional bus service provided by the Merrimack Valley Transit Authority.
Andover was originally settled in 1636 under the native-american name of Cochichawicke, a local waterway. The community was incorporated in 1646 as the Town of Andover, named after a town in England where many of its settlers had come from.
From the earliest days of the town, manufacturing has played a major part in its development. The region's first powder mill was established in 1775; the manufacture of paper began in 1789; and in the early nineteenth century, several woolen mills prospered. While all of these early forms of manufacturing have since moved away, Andover continues to attract major modern industries.
Andover is known the world over for being the home of one of the oldest and most prestigious independent secondary "prep" schools in the U.S. – Phillips Academy. Founded in 1770 by Samuel Phillips, the school today has an enrollment of approximately 1,100 students. Phillips Academy alumni include such notables as former President George Bush, pediatrician Dr. Benjamin Spock, former Yale President and baseball Commissioner A. Bartlett Giamatti, and former Chief Justice of the United States Supreme Court, Oliver Wendall Holmes Jr.
The patriotic song America was written in 1831 by Samuel Francis Smith while attending the Andover Theological Seminary. Andover is often referred to as the "Home of America."
Andover is known for its forward thinking government, committed to quality, responsiveness, and service. The Town's governing charter was enacted by the Legislature in 1956, and amended in 1974. The Charter authorizes an open town meeting-board of selectmen-town manager form of government. The Town is overseen by an elected five-member Board of Selectmen, and is administered by an appointed professional Town Manager, who also oversees approximately 20 departments and divisions. Andover's public schools are overseen by an elected five-member School Committee, and administered by an appointed professional Superintendent. There are also various appointed boards and committees which have specific responsibilities concerning various aspects of town governance. Town Meeting, which is generally unique to New England, serves as Andover's legislative body. It offers all registered voters of the community the opportunity to participate in the major decisions of the Town. Town Meeting is facilitated by an elected Town Moderator, who also responsible for appointing a nine-member Finance Committee, which in turn is responsible for advising Town Meeting on all matters brought before it.
The Town of Andover provides a full array of high-quality services to the general public, including: full-time police and fire protection; schools for grades kindergarten through 12 (one early childhood, five elementary, three middle, one senior high, and one reg. voc. tech. high); solid waste disposal and recycling; street maintenance and snow removal; public health and natural resource protection; elder, youth and veterans services; a full service library; and various parks, playgrounds, conservation lands, and recreational programs. The Town also operates its own water supply, purification, and distribution system; and provides sanitary waste disposal via connections to a regional treatment facility. During the summer months the Town operates Pomp's Pond, a family and youth oriented recreation area located off Abbott Street, which includes recreational and instructional swimming; shaded picnic tables; boat rentals; volleyball; and a children's playground. The Town of Andover is committed to a high degree of community responsiveness; providing high quality services to its citizens, and conducting all of its affairs in a professional manner.
Andover is home to businesses of all sizes. The town is known for its vibrant and diversified local economy. With its major intersecting highways, busy rail-line, and proximity to international airports in Boston and Manchester, Andover is a true business "cross roads." The town offers several industrial parks, a thriving downtown central business district, and a number of mixed use commercial areas. Andover is a highly sought after location for large companies representing major industries, including those involved in defense contracting, computer hardware and software, biotech, and medical products. Andover's ten largest commercial/industrial employers are Raytheon, Philips Electronics, Wyeth BioPharma, Putnam Investments, Vicor, Verizon, Compaq, Gillette, Smith-Nephew, and Comverse Network Systems. There are approximately 259 acres of developable commercial and industrial land remaining in town, as well as significant office space rental opportunities, suitable for accommodating almost any business need.
Andover welcomes visitors and tourists from across the globe. Cultural attractions abound in the community and surrounding area, including a verity of performing arts, museums, and historical sites. Professional minor league baseball and hockey can be viewed at nearby venues. The town offers a myriad of opportunities to explore and enjoy the great outdoors. Whether it's hitting the links at one of the world class golf courses, hiking or cross country skiing along the many trails running through conservation lands, or canoeing along the pristine Shawsheen River, there's something for everyone. Harold Parker State Forest provides an additional 3,000 acres of open space for fishing, camping, biking, and horseback riding. With its numerous lodging options conveniently located just off Interstates 93 and 495, and its central location within the greater Merrimack Valley region, Andover is an ideal location for vacation and business travelers. Come and make Andover your home away form home.
Widely regarded for it high quality schools and community spirit, Andover has evolved into a highly desirable community. In addition to offering a full range of housing options, from high-end single family homes, to low to moderate income rental and ownership opportunities, Andover's real estate market has been historically strong and resistant to economic downturns. The community's physical proximity to Boston, the Massachusetts seashore, and the White Mountains of New Hampshire, along with excellent major highway access, all contribute to its broad appeal. Andover's unique combination of physical, economic, governmental and social attributes create a highly desirable community for residents, businesses, and visitors alike.
Andover, Massachusetts – the Home of America
Massachusetts Courier Service Locations
Andover, MA
Franklin, MA
Boston, MA
Hopkinton, MA
Bridgewater, MA
Waltham, MA
Cambridge, MA
Westborough, MA
Canton, MA
Woburn, MA
All Locations
Boston, MA Contact Info
General Manager:
John Kane
Account Executive:
Amber Gest
6 Merchant St.
Sharon, MA 02067
Tel:
888-888-0001
Fax:
888-877-0001
Toll Free:
888-866-0001

Boston US Courier and Delivery Service has been serving Greater Boston's expedited local, regional and national delivery needs for over 25 years. We deliver what we promise, guaranteed.

With easy access to major interstates and an on time delivery rate of 99.3%, we afford you peace of mind on everything from documents to truckloads. With a local management team having over 35 years of combined experience in all areas of transportation and logistics, we offer you unparalleled service.

US Courier and Delivery Service
6 Merchant Street
Boston, MA 02119

Local Tel:

888-888-0001

Toll Free:

888-866-0001

Fax:

888-877-0001

Email:

Customer Quote
"Awesome service! Quick, courteous, and reasonably priced! Thank you!"

S. Brennan, Veterinarian, Somerville
Courier Services Available for Boston, MA.
We offer three expedited delivery service levels:
Non-Stop Direct

Closest first available driver is dispatched for your order
Estimated time to pick up is quoted at time of order
Verbal progress update is given at half way point and estimated time to delivery is quoted
Immediately upon completion of order a verbal POD (Proof of Delivery) is given with the name, time and location of the receiving party

Rush

Pick up and delivery of your order within 2 hours of your call within the Metro Boston/Route 128 belt
Pick up and delivery of your order within 2.5 hours of your call within the route 495 belt
For specific service times in other areas please contact customer service

Deferred

Orders are placed and ready for pick up prior to 10:00 am Monday - Friday
Orders are delivered no later than 4:30 pm Monday - Friday
Service area is limited to within the 495 belt east to Boston
Besides expedited delivery for your rush shipments, Boston US Courier and Delivery Service also provides Scheduled and Routed Services, Warehousing and Rush Trucking.