Irrigation Information

Tired of wasting your time and money? Have you ever considered an in ground sprinkler system? Tompkins is this area's leader in installation of all types of in-ground irrigation sprinkler systems. We offer and guarantee the longest system warranty of any local competitor, as well as the best pricing and service available. At the Tompkins Landscape website customers can also pay for their service and schedule at their leisure the date and appointments with a secure online scheduling program.
Installing a sprinkler system will pay for itself in just the money you save on conserving water. When normally watering by hand, approximately 50% percent of the water used is lost to runoff or evaporation. Another benefit includes installation of a separate water meter, so, in certain towns, you will not be paying for watering your lawn. In times of watering restrictions my designed and installed sprinkler systems can be programmed to on odd / even days, or an alternating schedule. Sprinklers systems are normally programmed to early morning when water evaporation is at its lowest so the majority of all water is properly distributed and gets to the plants or lawn areas that need it.

The majority of our veteran irrigation designers and installers have been with my company from day one. Yet every year we all still attend "refresher" courses and seminars to stay up to date with all the newest technology and products available.
Every knowledgeable designer, landscaper, and homeowner knows that the health and longevity of plants, shrubs, flowers, and lawn areas depend on proper irrigation. The addition of an irrigation system has become second nature; in order to guarantee a great landscape, you've got to have adequate water. Irrigation systems are akin to an insurance policy, because 90 percent of plants die due to improper watering. The benefit to customers is the long-term insurance that their plants are properly irrigated.
When choosing a contractor, don't just choose the one with the lowest price. Take the time to find a contractor with a competitive price and a good reputation. Your system will require service from time to time and you want to be sure your contractor will still be in business five years from now.

Be sure to compare apples to apples. If you have one contractor who says he will do the job with 20 sprinkler heads, and another who claims he can do it with 16, be careful. That is not to say that 20 is the right number, but be suspicious of the 16-head bid. Many contractors stretch the design to win a bid and in July and August when it gets hot, the 16-head systems show its true colors with burnt spots in the lawn.
Make sure the contractor is installing a backflow-preventor approved by the local plumbing inspector and/or water department. Also, insist on a rain sensor so that your system is not operating while it's raining.
The contractor should give you a written bid. That bid should describe the product to be used and the quantity of each, at least on major parts such as sprinklers, valves, and controllers. The bid should also give you an estimated start and completion date. All preparatory and finish work should be included.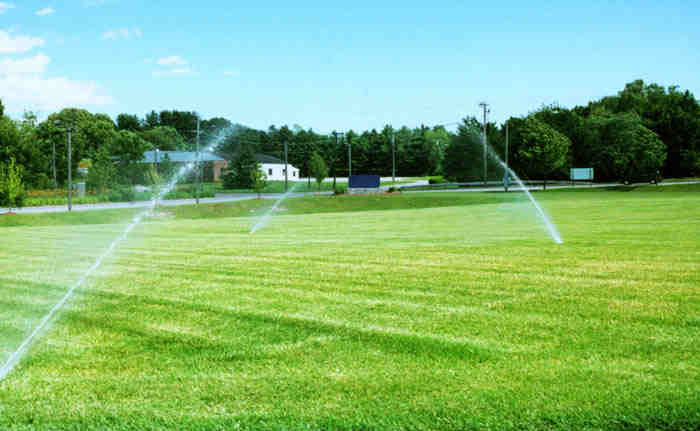 Hopefully, some of your questions have been answered. If there are any problems or concerns you may call or email me.
FAQs

Deciding whether or not to install an irrigation system can be a difficult decision to make. Hopefully with these answers to frequently asked questions from Rain Bird, one of the leaders in irrigation systems, you will be more comfortable with your decision. More...

Specifications

We ensure our customer's a quality product installed by trained individuals who are skilled and knowledgeable in irrigation installation and system design requirements. More...

Conservation

Tired of wasting your time and money? Have you ever considered an inground sprinkler system? Tompkins Lanscape and Irrigation is this area's leader in installation of all types of irrigation systems. More...

Evaluating Landscapers

It seems many of you are interested in irrigation but are uncertain as of how we install the system and how this is going to effect your existing landscape. More...

Gallery

Irrigation projects have ranged from expanding existing systems and installing new residential networks, to building complex commercial landscaping irrigation projects. More...

Example

View an actual project being built. More...
---
Towns Served:
Salem Massachusetts, Lawrence Massachusetts, Andover Massachusetts, Lowell Massachusetts, North Andover Massachusetts, Haverhill Massachusetts, Methuen Massachusetts, Amesbury Massachusetts
Top Products Sold:
rainbird sprinklers, orbit sprinklers, orbit irrigation, toro irrigation, river rock landscaping, toro sprinklers, rain bird sprinklers, pivot irrigation, gifford hill pivot irrigation sprinkler, orbit lawn sprinklers, toro lawn sprinklers resources, toro underground sprinklers, champion sprinklers, rainbird 5000 plus sprinklers, tyco sprinklers, rainjet sprinklers, toro lawn sprinklers, moody sprinklers, adjust rainbird 5000 sprinklers, asco sprinklers, brass sprinklers rainbird
Landscaping Ideas:
landscaping ideas, front yard landscaping ideas, backyard landscaping ideas, landscaping pictures, landscaping plans, landscaping design websites, landscaping designs, pictures of front yard landscaping, landscaping plant guide, landscaping photos, lawn maintenance schedule, backyard patio landscaping design, beautiful landscaping, pictures of landscaping, free landscaping ideas designs, landscaping article, how does irrigation work
Landscaping Services:
landscaping, sprinklers, irrigation supplies, irrigation, drip irrigation, irrigation controllers, lawn sprinklers, landscaping yards, front yard landscaping, landscaping stone, irrigation systems, landscaping with rocks, playgrounds with landscaping, lawn & irrigation sprinklers, landscaping gravel, steep hill landscaping, drip irrigation systems, landscape maintenance, irrigation system, landscape services, landscaping plants, backyard landscaping, irrigation equipment, pool landscaping
Class- irrigation controllers, lawn & irrigation sprinklers, irrigation equipment