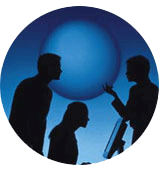 Headquartered in Neuchâtel, Switzerland and Westborough, Massachusetts, MediaPhonics provides enabling technologies that converge IP, PSTN and wireless networks. The Company's PC-based platforms and software leverage mass market components such as general purpose microprocessors, digital signal processors and operating system software, and industry standards such as Microsoft's TAPI and Intel's USB.
MediaPhonics "intelligent network endpoints" transform Windows based PCs and telephones into a telephony terminal for IP-based, distributed & clustered Call Centers, E-commerce solutions with vocal human interaction, and IP Telephony solutions for both Corporate and Consumers. MediaPhonics products are fully integrated into Windows-based applications using the Microsoft standard TAPI -allowing developers to shorten time to market and leverage development resources, while protecting investment in legacy wired and wireless phone equipment.
The PhoneRider™ intelligent terminal is a powerful development platform for desktop telephony. PhoneRider hardware features include call progress, real-time media processing, advanced call processing, full-duplex streaming on both the phone device and line device, full duplex speakerphone, and adaptive echo cancellation. MediaPhonics' TAPI Service Provider (TSP) and companion Wave driver facilitate the rapid creation and deployment of cost-effective converged telecommunication services at the client level. Third-party development kits based on ActiveX and Visual Basic are also available. MediaPhonics has licensed Lernout & Hauspie's text-to-speech, which allows users to listen to e-mail and fax headers. MediaPhonics will be incorporating Radvision's H.323 protocol stack throughout the product line. PhoneRider is available in both ISA and USB form factors
MediaPhonics' initial product, the award winning CyberDesk® offers a true unified message solution within MS Exchange with unified voice mail, email and fax messaging features. Users are able to not only access fax and email but also forward these documents to any fax machine. When used with Centrex or a PBX, CyberDesk offers one-number follow me and cost-saving call back services. CyberDesk consists of MediaPhonics PhoneRider™ hardware and the CyberDesk software.
Founded in 1996, MediaPhonics products are deployed worldwide and have received numerous industry recognition and product awards. MediaPhonics is a member the Microsoft Telecommunications Alliance (MTA), the Windows Communications Partnering Initiative .and the USB IF Compliance Program.