A note from a satisfied client...
Or just click here to add your name to our satisfied client list...
---
May 31,2000
Dear Dave and Tim,
Now that the job is finished, we felt compelled to write you and tell you our feelings of the experience of having you roof and side our house.
As we recall, thumbing through the Yellow Pages, we came upon the ad for McKay Contractors. For some reason it caught our eye above the other ads. We called and spoke to Dave, one of the owners of the company. He came by that evening to talk to us about what we wanted to have done. We had an immediate feeling that this was going to be the company that would do all the things we wanted and do them right. He definitely knew his business. His confidence and understanding of what we wanted to have done was most reassuring. We talked of quality in materials ("Only the best.", he said), color samples, insurance coverage and prior jobs the company had completed. He was most informative and understood that we were naive of certain aspects of roofing and siding. We felt very comfortable discussing all this with him.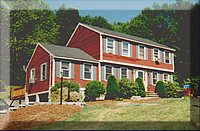 The following day he presented his proposal and we accepted his offer. The crew showed up bright and early the following week and the project began. Materials arrived and were stacked and organized in a neat and convenient place for us and the crew. Everyday at quitting time they would clean up around the house so well that you would hardly know they were there. They took great care that the surrounding shrubs and flower gardens were not damaged. All the equipment was already put away in one area of the yard before they left. This routine continued through the entire time of the job. Dave or Tim checked in with us daily filling us in on progress and asking our opinion on the daily results. They had many suggestions for options that we would never have thought of and always made us feel that we had the final word[ They are very creative. Dave or Tim or both were here each day to supervise the crew which added to our confidence that we made the right choice.
They were very caring about each detail. One such incident is worth noting. The crew had started siding one side of the house. They had maybe a third of the siding upon that side. Dave stopped them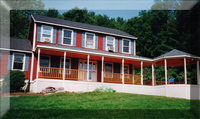 and asked us if we had a preference on which way we liked the siding seams to face. We said that we preferred it the opposite way of how it was already hung. It really wasn't that big of a deal to us, but it was to him! He instructed the crew to remove the portion of siding that was hung and reverse the seams! We thought this amazing and really thoughtful of him. It showed us once again that we made the right choice by hiring McKay Contractors. They are extremely fussy about every aspect of the job.
The house looks fantastic! People drive by and stare. Some even stop and tell us what a wonderful job you guys have done. We couldn't be happier with the outcome. And also, we would like to take this opportunity to let you know that not only are you guys consummate professionals you are also really nice guys. It was a pleasure doing business with you and getting to know you. You can be assured that the next project that we plan will definitely include McKay Contractors. (Maybe that gazebo we talked about.) Thanks guys for a super job and please pass that along to the crew. You were all great!
Sincerely,
Bruce and Joanne S.