Features

One-touch sample analysis, with results in less than 5 seconds
Rugged construction for trouble free, reliable measurements
Easy-to-use, menu driven application software
Convenient small size saves laboratory bench space
Simple instrument performance validation routine ensures accurate, repeatable measurements
RS-232 serial port for direct connection to your PC
Diffuse illumination Spectralon® integrating sphere provides optimal signal-to-noise performance
Automatic calculation of SPF, UVA to UVB ratio, and Boots Star Rating
Labsphere's UV-1000S Ultraviolet Transmittance Analyzer is specifically designed to meet the rigorous quality assurance needs of professionals involved in the formulation, development and testing of sunscreens. This rugged, convenient bench top instrument quickly and accurately measures the spectral transmittance of a sunscreen sample, then automatically converts data to a Sun Protective Factor (SPF) of the sunscreen product.
The UV-1000S operates by measuring the diffuse transmittance of fabrics in the ultraviolet region (250 -450 nm). A dual diode array spectrometer with a xenon flashlamp, optimized for UV emission, and an integrating sphere provides instantaneous spectral acquisition. The diffuse illumination geometry of the sphere measures the transmittance from all angles and pathlengths through the sample, and utilizes the total energy from the xenon flashlamp for optimal signal-to-noise performance. This design delivers exceptional wavelength stability and flash-to-flash repeatability.
Fast, Accurate Determination of SPF
The efficiency of the dual diode array spectrometer, coupled with the xenon flashlamp gives reliable and repeatable measurement results in seconds. Instrument software automatically calculates the average value of the UVB (280 - 315 nm) and UVA (315 - 400 nm) and SPF. The UVA and UVB ratio is calculated and instantly converts to give you the Boots Star Rating for the level of UVA protection offered by the sunscreen product.
Easy to Operate
Windows™ compatible application software provides an easy-to-use environment with pull down menus, dialog boxes, and built-in report generation functions. The application software guides the operator through analysis without complicated routines. This means a minimal amount of operator training.
Simple Report Generation
A built-in report function generates essential information at the click of a button. Reports include necessary GLP/GMP information such as date, time, operator name, sample identification, and test parameters. Reports are conveniently viewed on your PC, printed, or exported as text to data processing software for further review and analysis.
Application software includes preprogrammed solar spectral irradiance and CIE erythemal action spectra to precisely calculate the SPF value of the sample. Spectral irradiance data and test method parameters are easily set to your specific needs. Multiple scans are averaged and viewed simultaneously in easy-to-read formats.
For validation of the UV-1000S Ultraviolet Transmittance Analyzer's performance, application software includes an integrated Performance Validation Routine. This allows for on-site validation and revalidation and ensures optimum instrument performance. A set of four calibrated standards is included with each analyzer to validate the accuracy of both wavelength and photometric scales. The set includes three photometric standards and a wavelength calibration standard. The standards are mounted in specially designed holders that automatically orient and position the standard to ensure precise placement each time the validation routine is performed. The instrument's Performance Validation Routine assures quality measurement results as well as satisfying the requirements of regulsatory agencies.
Sunscreen Sample Preparation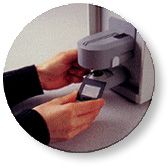 The ability to accurately measure sunscreen SPF is highly dependent upon consistent preparation of the sample. Labsphere has evaluated two sample preparation methods that provide accurate, repeatable measurement results for in vitro testing of standard sunscreens using the UV-1000S Ultraviolet Transmittance Analyzer. Two kits are available from Labsphere that include the necessary components, along with complete instructions for preparing sunscreens for analysis. Ask our Product Specialists for information about:
UVT-10—Transpore™ Tape Sunscreen Sample Preparation Kit
UVS-30—Vitro-Skin™ Sunscreen Sample Preparation Kit
Performance Specifications

Wavelength Range:

250 to 450 nm*

Wavelength Accuracy:

±2 nm

Transmittance Accuracy: (nominal ±uncertainty [%T])

2% ±0.5%
10% ±1.0%
20% ±1.5%

Data Interval:

1 nm

Effective Slitwidth:

d5 nm

Optical Geometry:

hemispherical illumination/0° viewing (d/O)

Sample Beam Diameter:

10 mm

Measurement Range:

0.100%

0–2.5A

1–50

Scan Time:

less than 5 seconds