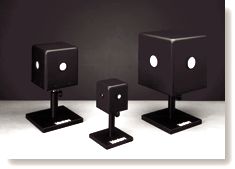 For applications requiring a rugged, durable sphere with consistently high reflectance, Labsphere offers a series of Spectralon integrating spheres. The interior of the spheres is machined from Spectralon, a thermoplastic resin, which is characterized by >99% reflectance over the wavelength range from 400 to 1500 nm, and >95% from 250 to 2500 nm. This wide range of higher reflectance allows the same integrating sphere to be used from the ultraviolet far into the NIR region of the spectrum. Spectralon provides environmental and optical stability, thus allowing the spheres to be used under harsh conditions where the use of a coated sphere would be impractical, such as underwater/deep sea measurements of light, high or low temperature industrial process control and high vacuum environments. Spectralon general purpose spheres are available in three sizes; 2 inch, 4 inch and 6 inch inside diameters. The sphere is encased in a rigid, drawn aluminum shell. Each sphere is equipped with four ports, one baffle, and port frames to hold attachments. The port locations for each sphere are at 0º, 90º, 180º and 270º. The IS-020-SL, 2 inch diameter sphere has four 0.50 inch diameter ports. The IS-040-SL, 4 inch diameter sphere has three 1 inch diameter ports with a 0.50 inch detector port. The IS-060-SL, 6 inch diameter sphere has three 1.50 inch diameter ports, with a 0.50 inch diameter detector port. The detector port is designed to accept all Labsphere detector assemblies or detector holders. The spheres each have a mounting boss post that slides into the sleeve of a sturdy support base. Sphere height is adjustable and the base may be removed if alternate mounting of the sphere is desired. Standard attachments include detector mask, port frames, port frame reducer, port reducer set and port plugs.
Each Spectralon integrating sphere is supplied with the following standard attachments: detector masks, port frames, port reducers, port reducer sets, and two port plugs. In the sphere attachment part number designation, the XXX denotes the size in inches.

A detector mask serves to mask the black face of the detector assembly so that only the active area of the detector is exposed to the interior of the sphere. Note: the mask coating is Spectraflect.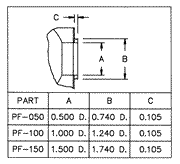 A port frame is a circular flange that is swagged onto the integrating sphere at a port. It serves as a mounting fixture for adapting integrating sphere attachments.

A port frame reducer mounts onto port frames larger than 1 inch and effectively reduces that port frame to a 1 inch port frame (PF-100). It serves as the interface that permits Labsphere 1 inch port frame attachments to be mounted on port frames larger than 1 inch.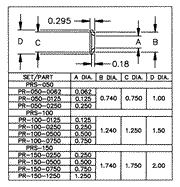 A port reducer (PR-XXX-YYYY) mounts onto a port frame (PF-XXX) and reduces the clear aperture of that port frame to a new value (YYYY).

A port plug mounts onto a port frame (PF-XXX) and plugs the corresponding port. A port plug will also mount onto a frame equipped with a port frame reducer.
Optional accessories are available to mount lamp light sources, detectors, lens adaptors, laser targets, sample holders, filter holders and detector holders.
PART

NO.

SPHERE DIA. (IN.)

PORTS

(NO.)

INPUT PORTS (IN.)

DETECTOR PORT (IN.)

MATERIAL/ COATING

IS-020-SL

2

4

0.50

0.50

Spectralon

IS-040-SL

4

4

1.00

0.50

Spectralon

IS-060-SL

6

4

1.50

0.50

Spectralon